Boys & Girls Club smashes record numbers for annual Mile High Brewfest

By
Max Efrein
|
mefrein
Originally Published: August 14, 2016 6:01 a.m.
The Boys & Girls Club of Central Arizona's Mile High Brewfest reached a number of major milestones Saturday evening, Aug. 13.
The annual beer tasting event has grown little by little, but this year (its fifth) was the true tipping point into success.
Within one hour, there were more than 2,800 people inside the gates in downtown Prescott.

"I think this will be our highest turnout ever," said Gillian Haley-Meierbachtol, co-founder and co-organizer of the festival.
This year, the event cost a little under $15,000 to put on — about a $10,000 decrease from the year before.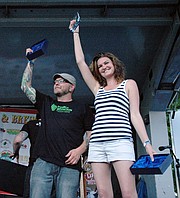 For the first time, that event cost was completely covered by sponsors, allowing every dollar from ticket sales to go directly to the Boys & Girls Club.
"It's like a dream come true," Haley-Meierbachtol said while trying to hold back tears of joy. "We spent five years trying to get to this point and we finally reached our goal."
All of the organizers were anticipating raising about $30,000 from ticket sales this year, but the crowd quickly proved them wrong.
"In just pre-sale tickets, we surpassed that," said Kristen Kern, Boys & Girls Club development director.
"Because of the dedication from the City of Prescott and the people that live here, we've been able to raise a significant amount of money for the kids in our community, and that's phenomenal," Kern said.
Feeling they've accomplished what they first set out to do about six years ago, co-founders Haley-Meierbachtol and Christian DeLeone have decided to completely pass the torch to Kern for organizing the event going forward.
"It will solely be left in my hands," Kern said. "I'm looking for a committee chair because it's a beast of an event for one person to put together."
To honor their selfless service to the club, Kern and her colleagues had Haley-Meierbachtol and DeLeone come onto the performance stage about half-way through the festival to award them with trophies of recognition.
"It was really important for me, our executive director and our board to recognize that they started this event for us and we couldn't have gotten to this point without them," Kern said.
Going forward, Kern believes much of the work has been done to make Mile High Brewfest a continuing success, but she and her colleagues will face some ordinary challenges in the coming years.

"The stepping blocks are there," Kern said. "Now we'll be looking at what are some unique twists we can add to it and how do we keep the caliber of the event high. We really want to be considered a staple event here in Prescott."
More like this story
SUBMIT FEEDBACK
Click Below to: