Yavapai College Performing Arts Center expands offerings for 2016-17 season
Originally Published: August 11, 2016 9:54 p.m.
Updated as of Sunday, August 14, 2016 6:40 AM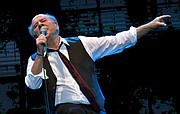 A diverse slate of shows will mark Yavapai College Performing Arts Center's 2016-17 season – its 25th – with everything from country to jazz, musicals to ballet, and swing on the schedule.
"We have expanded our season to over 25 shows, plus the addition of our Cabaret series, which features four musical artists in a more intimate setting," YCPAC Director Dr. Craig Ralston said. "We are also excited to expand our offerings to Camp Verde and Sedona."
The YCPAC Mainstage Season begins Wednesday, Aug. 17, with a free concert from the U.S. Navy Band Cruisers ensemble featuring eight Navy performers, playing music from just about every popular genre.
Five-time Grammy-award winner Wynonna Judd has a new album and a new band, Wynonna & The Big Noise, and they arrive on the Prescott stage on Aug. 26.
Next up: A musical adaptation of Louisa May Alcott's classic "Little Women" on Sept. 9-11.
The Prescott Jazz Summit All-Star Band plays Oct.1, then 9/11 police-officer-turned opera star Daniel Rodriguez teams with The Dallas Brass on Oct. 8.
Jazz/Dixieland juggernaut Big Bad Voodoo Daddy swings through town on Oct. 27.
The holiday season brings lots of performances: Windham Hill: Winter Solstice heralds the holidays with folk performers from the popular adult contemporary label on Nov. 19; "The Gift of the Nutcracker," Dec. 2 and 3, will employ both local and touring performers to dance Tchaikovsky's classic tale; then Yavapai College's combined choirs and special guests will lend their voices to Handel's "Messiah" on Dec. 4, and in mid-December, YC Performing Arts makes George Bailey "the richest man in town," with a live musical version of Frank Capra's "It's a Wonderful Life" on Dec.15-18.
Sammy Kershaw, Aaron Tippin and Colin Raye bring the Roots & Boots tour to the stage Jan. 28.
The Glenn Miller Orchestra returns to get listeners "In the Mood" for spring on Feb. 25, and The Golden Dragon Acrobats, veterans of two Broadway tours, show off their breath-taking athleticism and grace, March. 3.
Art Garfunkel, of Simon & Garfunkel and his own remarkable solo career, highlights March with an evening of classic material, song and prose March 10, then YC Performing Arts will offer Steven Sondheim's moving and hilarious fairy tale epilogue, "Into the Woods," which was made into a 2014 film. See it March 24-26.
The National Players close the month with a gritty take on Shakespeare's "Hamlet," March 31.
Rita Rudner brings her sly-but-hysterical take on gender and relationships to the stage April 15 and Ballet West caps the YCPAC Mainstage season with a varied program of dance, April 28.
Ralston is confident the season will offer something to please and challenge everyone. "It's designed to move, amuse and inspire – and bring you the fullest possible range of arts right here in Yavapai County."
Tickets for the 2016 YCPAC events are on sale now. Tickets for YCPAC's 2017 events will go on sale Friday, July 8, at 10 a.m.
For tickets, reservations, or more information on the Yavapai College Performing Arts Center's 2016-17 season, please contact the YCPAC Box Office, 1100 E. Sheldon St., Prescott, between 10 a.m. and 4 p.m. Monday through Friday, or call 928-776-2000 (or 877-928-4253 toll free) or visit ycpac.com.
More like this story
SUBMIT FEEDBACK
Click Below to: