Local Rundown: Prescott runner Makennah Mills takes 4th in Sacramento
By
Doug Cook
|
dougout_dc
Originally Published: August 11, 2016 11:54 p.m.
SACRAMENTO, Calif. — Prescott junior Makennah Mills placed fourth in the 2,000-meter steeplechase at the USA Track and Field (USATF) National Junior Olympic Championships July 25-31 in Sacramento.
Mills finished the race in 7 minutes and 24.30 seconds, establishing another new personal record in the event. That time was 14.5 seconds faster than her USATF regionals mark of 7:39.00, her previous best, which she registered earlier this summer in Albuquerque.
At the 2015 National Junior Olympics in Jacksonville, Florida, Mills ran the 2,000m steeplechase in 7:39.35, placing third. Mills competed in three other events at nationals late last month.
In the 400m hurdles, Mills crossed the finish line in 1:12.82. In the 1500m, she posted a 5:04.51 time. In the 3000m, she took 14th place in 11:09.13.
Former Chino Valley graduate Newman to be inducted into University of Nevada athletics HOF
RENO, Nev. — Chino Valley graduate Josh Newman, a member of the Cougars' 1990 and 1991 Arizona Invitational Soccer League state championship soccer teams, will soon be the member of two different sports halls of fame.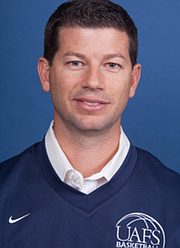 This past September, Newman was inducted into Chino Valley High's athletic hall of fame as a soccer player. On Sept. 16, Newman will gain induction into the University of Nevada Athletics Hall of Fame as a former assistant men's basketball coach on the Reno campus.
During his stint as an assistant at Nevada, Newman helped guide the Wolfpack to the program's first Sweet 16 appearance in the NCAA Tournament in the 2003-04 season. The entire 2003-04 Nevada team and its coaching staff will enter the university's athletics Hall together.
Newman currently serves as the head men's basketball coach at NCAA Division II University of Arkansas-Fort Smith.
"It's an honor to be recognized with this great team and extraordinary group of guys," said Newman, an assistant at Nevada for three seasons, in an Arkansas-Fort Smith news release.
The 2003-04 Wolfpack team recorded a pair of upsets in the 2004 NCAA Tournament. It knocked off No. 25-ranked Michigan State in the first round and No. 2 Gonzaga in the second round before losing to eventual national runner-up and No. 14-rated Georgia Tech in the Sweet 16.
The Wolfpack finished 25-9 overall and 15-0 at home that season, capturing Nevada's first Western Athletic Conference (WAC) regular-season title and subsequently claiming the WAC Tournament crown.
More like this story
SUBMIT FEEDBACK
Click Below to: