ERAU men's golf claims 2nd straight national academic crown
By
Doug Cook
|
dougout_dc
Originally Published: August 10, 2016 9:42 p.m.
PRESCOTT – For the second consecutive campaign, Embry-Riddle Aeronautical University's men's golf team has won the Golf Coaches Association of America's Academic National Championship, the association announced recently.
In 2015-16, the Cal Pac Conference titlist Eagles posted the highest overall team GPA out of 210 collegiate teams from across the country, compiling a 3.787 mark. Embry-Riddle is the only school in the National Association of Intercollegiate Athletics (NAIA) to accomplish the feat.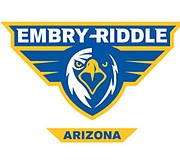 "To repeat as national academic champions and also win their conference championship says it all about our scholar athletes and their coaches," ERAU Chancellor Frank Ayers said in a news release. "Considering the rigor of their degree programs, it makes the achievement even more meaningful."
Added Eagles golf coach Kim Haddow, "What a tremendous honor for our Embry-Riddle men's golf team to win this award for the second year in a row.
"[Assistant] Coach Mike [Haddow] and I are so proud of these young men and their commitment to academics as well as athletics. The support they receive from all our faculty and staff here at Embry-Riddle is the winning formula for them to be successful in the classroom and compete nationally in golf."
And yet the academic honor wasn't the only accolade given to the 2015-16 Eagles' men's golf team.
In May, the squad received the 2016 Buffalo Funds Five-Star Champions of Character Team Award for demonstrating "integrity, respect, responsibility, sportsmanship and servant leadership."
Joining the men's golf team in academic success was ERAU's men's basketball team, recently named by the National Association of Basketball Coaches as one of the nation's top 120 teams with a 3.0 or better GPA. The men's golf and basketball programs were among nine Embry-Riddle athletic squads recognized as NAIA Scholar Teams in 2015-16.
What follows is a listing of the Embry-Riddle men's golfers who were honored as academic national champs, along with their respective majors.
• Matt Andrews – Mechanical Engineering.
• John Carosello – Global Securities and Intelligence Studies.
• Kale Davidson – Global Securities and Intelligence Studies.
• Garrett Hogan – Aeronautical Science.
• Andrew Sverdrup – Software Engineering/Cyber Crime.
• Austin Sverdrup – Electrical Engineering.
• Jacob Turner – Space Physics.
• Matt Zampello – Aerospace Engineering.
Here's the list of the 2015-16 Golf Coaches Association of America's Academic National Team Champions.
• NCAA Division I: Valparaiso (Indiana)
• NCAA Division II: South Carolina-Aiken
• NCAA Division III: University of Texas-Dallas
• NAIA: EMBRY-RIDDLE (PRESCOTT)
• NJCAA D-I: Garden City Community College (Kansas)
• NJCAA D-II: Meridian Community College (Mississippi)
Follow Doug Cook on Twitter @dougout_dc. Reach him at 928-445-3333 ext. 2039, or 928-642-7865.
More like this story
SUBMIT FEEDBACK
Click Below to: