Helicopter crash at Prescott airport injures two
Originally Published: August 2, 2016 3:19 p.m.
Updated as of Tuesday, August 2, 2016 7:29 PM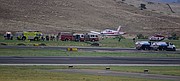 PRESCOTT – A light helicopter crashed near the end of a runway at Prescott Municipal Airport on Tuesday, Aug, 2, sending the pilot and a passenger to the hospital with injuries.
It happened about 10:30 a.m. The Robinson R-22 came to rest between the ends of runways 21 left and right.
A Federal Aviation Administration spokesman said the helicopter "rolled over onto its side under unknown circumstances."
The two people on board, both men in their 20s to 30s, were flown to Flagstaff Medical Center in critical condition, according to Prescott Fire Division Chief Don Devendorf, and the first arriving fire crew reported that they were "laying in the grass" between two runways.
"The majority of the fuselage is intact, but the other parts of the helicopter were spread around the area," Devendorf said.
"Witnesses reported seeing the helicopter fall from the sky at an estimated height of 50 feet," he added.
The two injured were to be released from the hospital Tuesday evening, a spokesperson with Embry-Riddle Aeronautical University said. Their injuries were not as serious as reported.
The pilot was a student from a different school who was practicing on his own time, ERAU stated.
The helicopter was leased and reportedly owned by Universal Helicopters, a flight training company. A call to Universal Helicopters Tuesday was not returned.
Follow Scott Orr on Twitter @AZNewsguy. Call him at 928-445-3333 ext. 2038 or 928-642-7705.
More like this story
SUBMIT FEEDBACK
Click Below to:
This Week's Circulars
To view money-saving ads...