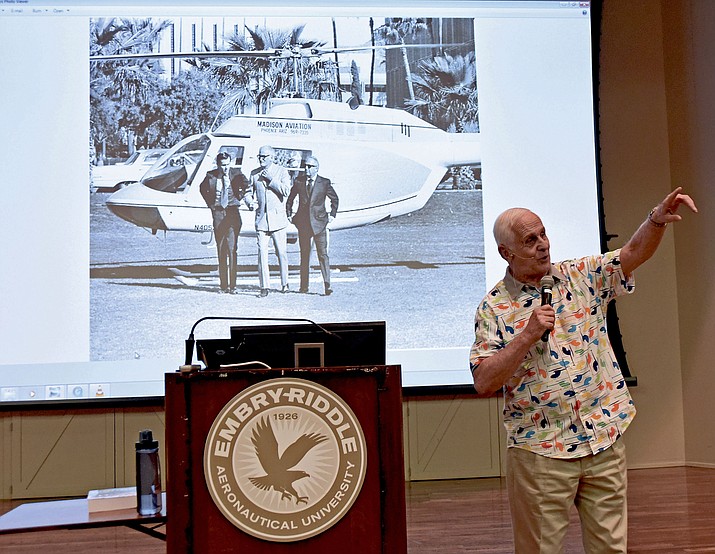 Originally Published: April 28, 2016 6:01 a.m.
PRESCOTT – I became a journalist and a helicopter pilot because of Jerry Foster.
He was a positive influence on many youngsters, who watched him covering the news in Phoenix on KPNX-TV during the 1970s and '80s in his helicopter, Sky 12, and who grew up to become TV news professionals or helicopter pilots themselves.
Foster calls people like me "his kids," and he met lots of us during one of his estimated 3,000 visits to schools, where he would fly in and land on a football field, and then talk about staying in school if we wanted a cool job like his someday.
Foster described his career to a the crowd at Embry-Riddle Aeronautical University's Davis Learning Center Tuesday, April 19, where he was the presenter in this month's installment of ERAU's Aviation History series.
He began with a decision that would haunt him for years: as a young Marine, he hauled off and punched a sergeant who insulted his mother, and that was the end of his military career.
After that, he knocked around various jobs until he found flying.
Foster progressed through all the steps involved in learning to fly helicopters, and eventually became the chief pilot for an experimental project conducted by the Arizona Highway Patrol in 1969, which successfully proved that using helicopters for air ambulances was an effective concept.
"After (the program) ended, the Arizona Highway Patrol bought two helicopters, and so did every other state in the country," he said, to applause from the audience. "It all started right here in Arizona."
Helicopter wars in Phoenix
It's been years since the 74-year-old former pilot-reporter drew consternation from other journalists for becoming involved in the news stories he covered. At the time, he flew one of the few helicopters in Phoenix and law enforcement agencies routinely called on his skills to help rescue injured mountain climbers and motorists trapped by raging flood waters, or search for downed aircraft and missing hikers. This gave him access to scenes that today's TV crews can only dream about.
These days, TV news coverage of police pursuits are almost passe, but Foster was the first to cover them. He was also the first pilot to report live from his helicopter, thanks to KPNX management's ratings war with KOOL-TV. Foster worked at KOOL first flying a gyroplane, then a tiny helicopter – he called it The Bug — that could not broadcast a live picture.
KPNX offered him a jet helicopter, equipment to send back a live TV signal, and the freedom to do the job the way he wanted at double the salary he was getting from KOOL. ("I lied," he said with a chuckle, when he told his new bosses what KOOL had paid him.)
Foster jumped at the chance, and spent the next decade solidifying his reputation as the best-known news personality in town. The station wanted a cowboy image, and Foster played it to the hilt. When Foster couldn't find a staff news photographer fast enough, he simply shot video himself, flying with his knees and one hand, and shooting with the other.
Foster showed video of some of his exploits during his presentation, including one in which a DPS paramedic hung from Sky 12's landing skids to grab a drowning girl in a rushing river.
"I put the helicopter in the water, this highway patrolman was under water, and he was able to grab that girl's arm," he said, and then he landed and helped with CPR.
"She was dead. She's alive today and has two little kids."
Foster kept up his cowboy image while battling with the FAA over his flying, an irony, because in 1982, he was awarded the Harmon International Aviation Trophy (for "outstanding ... achievements in the arts and science of aeronautics") in a ceremony hosted by President Ronald Reagan, "He handed me personally a bag of jelly beans," he said.
Foster appeared in Newsweek magazine and on the TV show "Real People."
He marveled at his good fortune: "There was just nothing like it. What a deal — somebody else was paying for the helicopter, gas, insurance, all that sort of stuff, and I acted just like it was mine. That's what they wanted me to do."
It looked like the end of Foster's career when he was caught with a baggie of marijuana, but a police investigation cleared him — he said he had found it at a campsite and was bringing it to the Maricopa County Sheriff's Office.
In 1988, he left KPNX, tired of the FAA's scrutiny and after having had a close call on a rescue, and began working as corporate pilot.
Changing times and Foster's fall from grace
By 1994, he was back in the helicopter news business at KTVK in Phoenix. His job was different now: instead of doing the rescuing, he was a true reporter, watching the dozens of law enforcement, medical and rescue helicopters in town, which were flying the sort of missions he used to fly.
And then came his downfall: in 1996, Foster was caught up in a federal drug sting. Facing a high-profile trial, which was being pursued by Court TV, he opted instead to plead guilty to a lesser charge, after which the charges were dropped, provided he agreed to submit to two years of random drug tests and talk to schoolkids about what he'd done.
KTVK fired him, his wife left, and Foster hit the road as an anonymous long-haul trucker. He drove for years, losing contact with most of his friends. Helicopters were far back in the rearview mirror, and that's where he wanted them. After 35,000 hours as a pilot, he was finished.
Redemption
Finally, his daughter, Andryea, convinced him to try Facebook. He resisted at first, sure that people would only want to ridicule him, but she felt that there were still plenty of fans from the old dayswho wondered where he'd gone.
Foster went ahead and joined Facebook in late 2009 and within a week, 1,000 people had friended him. So many more had questions, that he wrote an autobiography, titled "Earthbound Misfit" after a lyric in a Pink Floyd song.
He seems satisfied with how his life has worked out
After he finished his presentation Tuesday night, he received a standing ovation.
"I'm the luckiest guy in the world. I truly am," he said.