Discovering Cuba: An audio and photographic trip
By
Nanci Hutson
|
HutsonNanci
Originally Published: April 24, 2016 10:22 a.m.
Roy Smith is a world-traveling adventurer and long-distance bicyclist who likes to explore places where most people never get to go.
Photo Gallery
Roy Smith Cuba Photos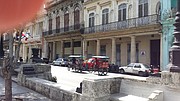 The England-born's latest sojourn, along with his wife, Brenda, and three other friends, including Prescott traveler and author Robert Miller whose family fled Cuba during the Revolution, was a more than 800-mile bike trip across Cuba, he described as just an "amazing journey." The five-some mingled and socialized with born-and-bred Cubans as they traveled from town-to-town, staying in inexpensive bed and breakfast places, and experienced a culture freeze-framed in what was America's late 1950s and 1960s. Vintage Buicks and other such cars are commonplace, as are horse-and-carriage taxis, he said.
The landscape was spectacular, the Caribbean blue against a mountain backdrop mixed with limestone plains and tropical palm trees, described Smith, 75. He and his fellow group members also raved about the food, particularly the fresh-grown fruits and vegetables, and the Spanish and post-colonial architecture.
Smith's trip occurred just prior to President Barack Obama's arrival in Cuba, the first American president since Calvin Coolidge to visit the island nation. Yet he said as they toured the country they discovered great enthusiasm for what Obama's visit might mean for the country as it strives to rebuild in the post-Fidel Castro era.
"Their spirits were quite extraordinary," Smith described.
Most of what he and his party heard from the locals was that they "love" their country, "but know it can be better, and hope for it," he said.
"It's just a wonderful place," Smith said.
More like this story
SUBMIT FEEDBACK
Click Below to:
This Week's Circulars
To view money-saving ads...