Prescott businesses wish to find understanding with recovery community

By
Max Efrein
|
mefrein
Originally Published: April 18, 2016 6:01 a.m.
Editor's note: This is another part of the ongoing series concerning the sober-living group home issue in Prescott.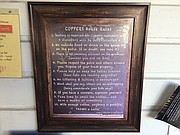 When Julie Gorman first opened Wild Iris Coffee House eight-and-a-half years ago in Prescott, she knew nothing of the already existing recovery community.
It was only until she started receiving job applications from young men and women with identification cards from various parts of the country that she began asking questions.
"Like, why are you here if you're from Michigan," Gorman said. "How in the world does someone from back east end up in Prescott?"
She received very honest answers that they came here to recover from some form of addiction.
At the time, she didn't think much of it, for the population of people with such stories to tell was still quite small.
That changed about four summers ago.
"We noticed a huge shift in the population of people 20s to 30s," Gorman said.
The spike was due to a tipping point in Prescott's recovery industry, and Gorman's business quickly reaped both positives and negatives from the movement.
On one hand, her shop was constantly bustling with people at all hours of the day. On the other, many were non-paying customers.
"A lot of issues with loitering," Gorman said.
Paying customers began to complain that there was no available seating due to the loiterers; that cigarette smoke was becoming intrusive; and that certain groups were consistently having loud and "unsavory conversations."
So Gorman started an active campaign to mitigate these concerns. She asked her staff to regularly monitor all of the customers, which took time away from their regular duties and turned into more of a chore than anything.
"We ended up nicknaming the courtyard 'the playground,' because there were so many people who would just hang around without buying anything," Gorman said.
It got so bad at one point that Gorman resorted to hiring a bouncer.
"His job was to sit there and ensure that people who showed up were one, actual customers, two, just being respectful, and that they were smoking in the appropriate areas," she said.
The problem has receded a bit since then and the bouncer was taken out of the picture. However, Gorman now rotates her employees through an additional shift during which the primary duty is keeping an eye on the crowd.

"We've added 25 hours to our week simply to monitor people," Gorman said. "That's a huge impact. But it's the only way that we can keep everyone happy."
Andrea Mauk has faced similar issues in recent years with her Prescott business, Cuppers Coffee House.
Her way of addressing the matter was posting a large board of 10 'house rules' right by the entrance of the shop.
"That way our staff could point to the rules and theoretically say 'hey, this is our policy, maybe you need to go read the house rules,'" Mauk said.
That strategy - along with talking with the managers of group homes who come into her business about what is acceptable behavior by their residents and what is not - has helped significantly, she said.
"We would be honest and [the managers] were understanding because they didn't want a bad effect on local businesses either," Mauk said.
COFFEE HEALTH
Coffee shops are perhaps one of the best ways to gauge the health of the recovery community in a given area, said Adam Haar, a former participant of a sober-living program at a small operation in town called TreeHouse Learning Community (TLC).
Haar now works for the company, but had been working for Wild Iris for some time shortly after graduating from TLC's program.
He said he has found that those going through some sort of addiction treatment most often patronized businesses that simply provide the opportunity for conversation.
"At least from my experience, a lot of what we do in recovery is have conversations," Haar said. "So anyplace where people are meeting up and talking is where you'll see a lot of adults in recovery."
Despite the issues their businesses have faced, both Mauk and Gorman said they are very accepting of the recovery community and that some of their best employees, customers and friends over the years have been individuals who have gone through treatment programs.
What they would like to accomplish, however, is to find a reliable way to express their concerns to the leaders of group homes and treatment centers so those leaders can then spread the message to those they're working with who are going through recovery.
"We've come to the realization that it's like a revolving door and we're trying to figure out a way to communicate back to the rehab houses," Gorman said.
Gorman thinks that perhaps something as simple as an information packet given out to each member of the recovery community outlining some basic rules of the general community would help the situation.
"Because a lot of the people we talk to are often just unaware about how these sorts of things work," Gorman said.
More like this story
SUBMIT FEEDBACK
Click Below to:
This Week's Circulars
To view money-saving ads...