Highway 89 project wins 2015 Partnering Excellence Award
Originally Published: April 18, 2016 6 a.m.
On March 25, the ADOT SR89 Prescott-Ash Fork Highway (Deep Well Ranch Road-South Chino Valley Limits) project was recognized with the 2015 Arizona Transportation Partnering Excellence Award (projects between $5M - $25M) at the Arizona Conference on Roads and Streets in Tucson.  This award recognizes projects and partnership teams that demonstrate a high degree of achievement through their partnering process.  
Arizona Department of Transportation-Northwest District, Fann Contracting Inc (Fann), Yavapai County, City Of Prescott, Town of Chino Valley, Stanley Consultants Inc, and respective ADOT consultants received this prestigious award for having some of the highest outcomes under the project's goals, resolution, teamwork, scope, schedule, quality and stakeholder coordination.  
The SR89 project involved full reconstruction of 4.66 miles of an existing 2-lane highway to an ultimate 4-lane divided highway that connects the communities of Prescott and Chino Valley. Two new roundabout intersections were constructed on both ends of the project, under traffic, within the existing highway alignment. The job was unique not only because of the magnitude of work involved for full highway reconstruction, but primarily due to the careful phasing that was necessary to maintain traffic throughout construction. With a traffic count of about 20,000 per day, positive traffic flow had to be maintained at all times in both directions.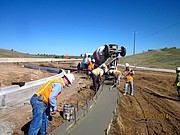 During construction, the project faced several weather-related delays and other unforeseen conditions, such as unsuitable soil, that ultimately set it back by over three months. The construction team implemented various time-saving strategies to offset some of the delays.  Acceleration efforts were employed by working overtime and double-shifting critical activities such as completing the heavy-haul import operations for aggregate base course (ABC) and asphalt concrete (AC) during nighttime hours. With almost 170,000 tons of imported ABC, the project double-shifted the haul and placement efforts to import materials by night, then grade and compact the ABC during the day. Much of the AC was placed at night as well, with other excavation and grading operations occurring during the day.  In the Chino Valley section of the project, much of the driveway grading and paving operations were completed during non-business hours to minimize disruption to surrounding businesses.
After these acceleration strategies were implemented, the project was back on track for completion on its original date of August 2015. The overall community response was very positive during and after construction.
"We are all VERY proud of this particular project. The team worked hard to obtain first-rate quality something that we were all honored to be a part of. The job was held to the highest standards and the end result was fulfilling," said Jason Fann, Fann Contracting Inc.
Due to its location, this project involved long-term partnering efforts between ADOT, Yavapai County, City of Prescott, Town of Chino Valley, and surrounding landowners. These agencies and affected stakeholders spent several years of planning to get the project from conception to construction. The area now has a safer section of divided highway with roundabout intersections that will ultimately reduce help major accidents and fatalities along this busy thoroughfare.
More like this story
SUBMIT FEEDBACK
Click Below to: