Paddle out on one of Prescott's lakes

Originally Published: April 14, 2016 5:15 p.m.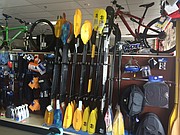 Prescott may not have oceanfront property, but that doesn't mean that people can't enjoy a little bit of kayaking and other paddle sports. There's plenty of opportunities with Watson Lake, Lynx Lake, Goldwater Lake and Willow Lake all within 10 miles of the downtown area.
The draw to kayaking and other paddle sports in Arizona is most likely because it's inviting to have an opportunity to get on water, said Manzanita Outfitters owner Dave Wheeler.
"I think people choose kayaking because it's simple as opposed to anything that would be motorized that would require a trailer. They're small, they're light, they're affordable," Wheeler said. "There is some exercise element to it, but that's totally adaptable to your particular desire or skill level. You can paddle as hard or as easy as you want, you can make it a form of exercise or mild recreation."
Further, the activity can either be paddling the boat or it can be an activity from the boat, such as fishing, snorkeling, scuba diving or birdwatching, Wheeler said.
A person doesn't need a whole lot once they have their boat, paddle and basic accessories, either, Wheeler said. There's sun protection and water to stay hydrated as well as the normal safety devices like a personal flotation device (PFD), he said. Other than that, the only thing a person needs to bring with them as anything else they might enjoy doing, like a camera or binoculars.
The first thing to consider when buying a kayak is what the boat is going to be used for, Wheeler said.
"Is the activity going to be paddling the boat or is it going to be doing something from the boat? So if you want to fish or birdwatch or snorkel or use the boat as a platform for another activity, you need to figure that out, or is paddling the boat going to be the activity?" Wheeler said, stating the second most important thing to consider is transporting the boat. "If moving it around, getting it to the lake gets to be too much of a problem or a burden, you won't use the boat over time."
Without the ability to properly transport the boat, the buyer will stop using it as their boat or the inside of their car car will be marked or torn up or a piece of glass might be lost. As for strapping it on the top of the car, it will be difficult without a rack or carrier, Wheeler said. When buying the boat, one question that's asked is how the buyer is going to get it to the lake right away as to find out whether or not there's going to be an issue, he said, adding that proper transportation can run as much as the boat itself.
With figuring out whether or not paddling the boat is the activity or if the activity is something from the boat as well as how transportation is going to go done, that's when to select the kayak that's right for the buyer, Wheeler said. However, it's important to try a boat before buying it and Manzanita Outfitters offers a demo program so people are able to do so.

"If you just go by what a friend said or maybe just on price alone, you really won't know," Wheeler said. "You really should find a qualified shop that can talk to you about how boats are made, what the features are, what you can experience and then try some."
Of the lakes in the Prescott area, Watson Lake is probably the best to kayak on, Wheeler said. It may not be that much bigger than Lynx Lake, but it has the coves and rock structures that are fun to paddle back into, he said.
On the other hand, Goldwater Lake is nice for that rustic, wooded setting and Willow Lake has some of the best wildlife.
"There's more amphibians, more birds and more general wildlife out on that lake," Wheeler said, mentioning that it's not always as fun to paddle because the lake can be sort of shallow. "But because people don't get out on it as much, there are more birds and other things to see in terms of wildlife."
SUBMIT FEEDBACK
Click Below to:
More like this story