Kudos Kravings: Enjoy an appetizer while eating out

Originally Published: April 14, 2016 5:06 p.m.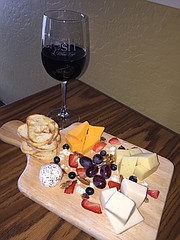 It's April, the birds are singing, the flowers are in full bloom and the sun is shining like a beacon of warm light. It's too perfect of a time to be cooped up in the house making dinner so get out of the house and get something to eat at one of the Prescott area's many restaurants.
However, instead of getting a main course and something to drink, why not live a little and get an appetizer to go with it? After all, what is life if there isn't living involved? With so many of the restaurants in the area offering appetizers, there's bound to be something that sounds tantalizingly tasty.
Here's some of those appetizers.
Going out can mean something casual, like getting a burger and pairing it with a brew of some sorts and for that, there's the Prescott Brewing Company, 130 W. Gurley St. For a starter, there's always the Ale House Nachos, crispy corn tortilla chips layered with jalapeno cheese sauce, chili with beans, shredded cheddar cheese, shredded lettuce, diced fresh tomato, jalapenos, green onions, guacamole and sour cream, $11.99.
Or if going out means getting something a little higher end than a burger and a beer, like some upscale steak and seafood, then Murphy's Restaurant is the place to go, 201 N. Cortez St. As a starter, get the Pecan Encrusted Brie, served with roasted garlic, sun-dried tomatoes and crostini, $12.
Bistro St. Michael, 100 S. Montezuma St., is also an option if upscale is the desire. One thing to whet an appetite here is the Queso Fundido, melted cheese blend with house tortilla chips and crostini with the choice of three toppings; green chilies, jalapenos, chorizo, guacamole, green onion and pico de gallo, $9
Don't forget the Hassayampa Inn, 122 E. Gurley St. and its Peacock Salad, tender grilled chicken breast on a bed of baby field greens accompanied by sliced apples, sun-dried cranberries, toasted walnuts and raspberry vinaigrette, $12.
Though, eating out may mean getting out of the downtown area and if that's the case, Prescott Crush Wine Café is a good choice, 1781 E. Highway 69, Suite 15. Try the Cheese Platter, assorted artisan cheeses with fruits, nuts and crostini, $12.
More like this story
SUBMIT FEEDBACK
Click Below to: