Garden club tour to feature 6 Prescott gardens
Originally Published: April 7, 2016 3:33 p.m.
Alta Vista Garden Club, Prescott, Arizona, presents its biennial garden tour Saturday, June 18, from 8 a.m. to 3 p.m.
Guests will experience creative blends of perennials, annuals, native plants and vegetables located in private gardens in Prescott area's varied landscapes.
This self-guided tour features six vibrant gardens and their caretakers, including:
• Exemplary 2-Year-Old Garden - Diverse with history from a Master Gardener who uses her Cherokee native upbringing to create an arboretum effect with Mother Nature (on the registry of Monarch watch), this amazing garden fills your senses spiritually and artistically.
• Garden of Gratitude - A friend and family affair of riches combs this beautiful hillside of plants, flowers and a fountain stream along with entertainment areas. This gifted garden is a work in progress that will command your attention to detail.
• Mingus Mountain Magic - Rest easy in this inspirational, magical garden with a waterfall and lily pond while enjoying the spectacular view! This Master Gardener beautifies this mountain garden with year-round beneficial blooms for the environment.
• The Vacation Scrapbook Garden - Inspired from a world of travel, this delightful garden oasis of one-half acre is bustling with a large koi pond, unique plants, lush mature trees, and botanicals of every size and color.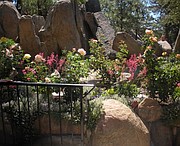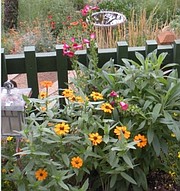 • Tucked in the Boulders - Fruits of our pleasure inhabit this impressive boulder strewn property. Fruit and nut trees, along with vegetable gardens, provide for this large family. Enjoy garden sculptures along with breathtaking views of Thumb Butte and Bradshaw Mountains. Historically, granite used for the Yavapai County Courthouse was quarried from this site.
• The Fire- and Water-Wise Garden - Let there be an encore! This Master Gardener has made his "Certified Wildlife Habitat" Arizona garden water-wise and gorgeous! Tiered gardens with a seasonal creek beautify this fragrant, ecological garden. A garden not to be missed!
In addition to enjoying these wonderfully landscaped gardens, guests will meet related professionals and Master Gardeners to add to their knowledge and understanding of the unique features in each garden. Local artists and musicians will add to the ambience of each garden setting.
On the day of the tour, the program with maps and wristband entry IDs will be available between 8 and 11 a.m. in front of the Yavapai College Performing Arts Center at Yavapai College off Sheldon Street in Prescott. Wearing of wristbands is required for entry into all gardens.
Tickets are limited and available. They must be purchased in advance for a $15 donation at Bella Home Furnishings (Prescott), Jay's Bird Barn (Prescott and Sedona), Prescott Valley Nursery (Prescott Valley), The Native Garden (Prescott) and Watters Design & Garden Center (Prescott).
Tickets are also available online at www.altavistagardenclub.org. Click on the "Garden Tour" tab to purchase your tickets using the PayPal account on the website.
Proceeds from this event go toward the Alta Vista Garden Club's work in local education, conservation and beautification projects.
For more information about the Alta Vista Garden Club, visit www.altavistagardenclub.org.
More like this story
SUBMIT FEEDBACK
Click Below to: