3rd annual fundraiser supports Prescott's La Tierra Community School
By
Les Bowen
|
NewsyLesBowen
Originally Published: April 7, 2016 6 a.m.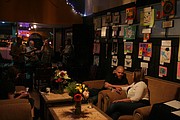 PRESCOTT – Supporters of the arts and education again turned out Sunday, April 3, to support La Tierra Community School's third annual fundraiser, Art Under the Stars.
Anna Barnum, director of the 6-year-old public charter school, said the fundraiser supports the music, Spanish and visual arts programs at La Tierra.
The event showcased art by each of the school's approximately 100 K-6 students and tied in with national Youth Art Month, which was in March.
"It didn't quite work out to do our event in March," Barnum said, explaining that event promotion and the corresponding school activities occurred during Youth Art Month.
She explained some of the aspects of the charter school's programs that tie into the student art on display.
"Our school is an Expeditionary Learning school," Barnum said. As a result, the school has direct ties to the national EL Education network and Prescott College, which follows a similar model in its approach.
Barnum explained the basic concept is learning through real-world application.
The school also incorporates a modified version of STEM – the nationally recognized curriculum approach which includes science, technology, engineering and math.
La Tierra adds arts and recreation, resulting in a STREAM curriculum.
"It's a collaborative learning model," Barnum said. Students work with peers and other grade levels within the school, and with businesses and community organizations locally.
For example, Barnum explained the school's curriculum includes Spanish. So the school's fifth- and sixth-graders will take a school trip to Rocky Point, Mexico, where they'll do service for a local orphanage, work on collaborative projects with Mexican students, learn about national disasters and marine life, and do a beach clean-up – all of which tie directly into the students' curriculum.
Whether it's a trip away from the school or a specific part of the in-class work, the school dubs each of these learning units "expeditions."
Art on display at Sunday's event carried similar tie-ins with students' other coursework.
"Part of the mission and philosophy of our school is to tie in with the culture of the southwest," Barnum said. "Most the art represents an expedition the student did this year."
Barnum expressed the school's appreciation to Granite Mountain Brewing for donating space for the event and local businesses that donated items for the night's silent auction.
She added her thanks for those who attended and supported Sunday's fundraiser.
"We encourage people to come see our school," Barnum said, explaining she hopes the school in representative of the historically small and close-knit Prescott community.
For more information about the La Tierra Community School, visit http://latierracommunityschool.org/ or call 928-445-5100.
More like this story
SUBMIT FEEDBACK
Click Below to: