Robots invade Heritage Middle School
Quad-City Schools
Originally Published: April 4, 2016 5:50 a.m.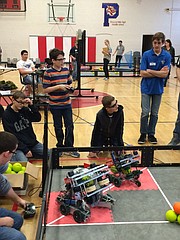 Coach Steven Booher knows that the technological economy of the future depends on equipping today's youth with the tools necessary to become tomorrow's leading innovators.
That is why he applied for grants that allowed Heritage Middle School to buy three robot kits. Each kit included the raw materials to enable a team of four to six students to design, build, program and operate a robot.
Each April, the students' engineering knowledge and programming skills are put to the test as a new challenge and rules are released. The goal of is to require students to build innovative solutions that can withstand heated competitions, while gathering information to improve their robot over the course of the year.
"The tournaments provide kids with an engaging hands-on learning experience that promotes a passion for science and technology – instilling in them an enthusiasm to pursue STEM-related education and careers," Booher said.
Each year teams attend competitions that help them qualify for future events held around the state between November and February. Only the most accomplished teams qualify to participate at VEX Worlds, where students' prowess and remarkable ingenuity are on display. These fierce competitors spend countless hours designing, building, programming, and testing their robotics skills at more than 1,000 local, state, and regional competitions.
Although the Heritage teams had their robots only since October they were able to do well in this year's VEX Regionals on Jan. 16, placing 12th, 15th and 17th out of 24 teams. The eighth-grade boys' team also won this year's Sportsmanship Trophy. Booher feels that with a full year next year the teams will be able to compete more and rank even higher.
The VEX Robotics Competition is managed by the Robotics Education & Competition Foundation and serves as a vehicle for students to develop critical life skills. The Heritage robotics teams would like to thank the generous grants from REC and the Arizona STEM Network by Science Foundation Arizona.
If you would like to contribute to the Heritage Middle School Robotics program, send your tax credit donations to: HMS Robotics, 1076 N. Road 1 West, Chino Valley AZ 86323.
We thank you in advance.
More like this story
SUBMIT FEEDBACK
Click Below to: