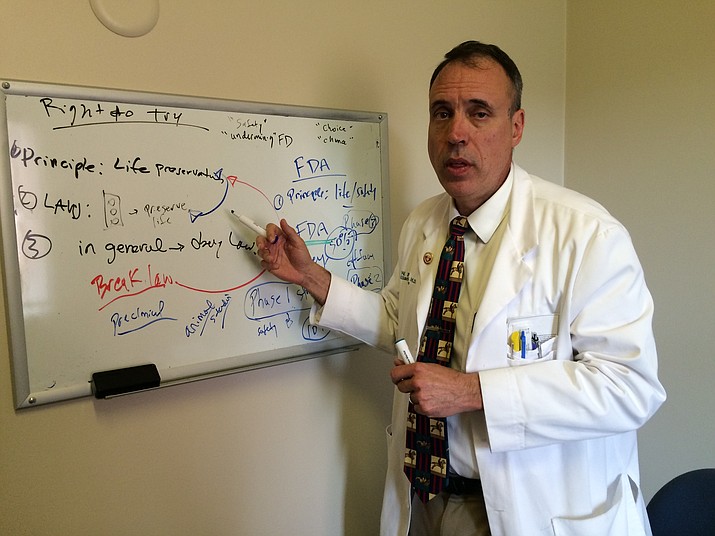 Photo by Nanci Hutson.

Originally Published: April 4, 2016 6 a.m.
PRESCOTT - Dr. Larry Parsons considers Right-to-Try legislation to be analogous to traffic signal laws.
Traffic signal laws requires motorists to obey intersection lights and road signs to keep people safe on their daily travels.
Then one night a frantic driver speeds through a red light. The driver's spouse in the passenger seat is suffering a heart attack. Putting on the brakes will slow arrival to the emergency room. The driver's disobedience to the law might not save the spouse's life, but in the moment it seems worth a chance.
To Parsons, director of inpatient palliative care medicine at Yavapai Regional Medical Center, strict obedience to that law would defeat the principle for which the law was written. It doesn't mean the driver never obeys traffic laws.
The same applies to the growing national trend toward state Right-to-Try laws that enable terminally ill patients to be prescribed experimental drugs and therapies that have passed the Federal Drug Administration's first phase of safety testing but could still be months, even years, away from official approval, Parsons said.
Arizona was one of five states in 2014 to approve a Right-to-Try law; the first to approve was Colorado in May 2014.
In general, Parsons said, the medical establishment adheres, even endorses, FDA guidelines.
Yet there are times when the federal process interferes with the ability of a patient diagnosed with a fatal disease to access a drug that might extend, or improve, their quality of life, Parsons said. Some of these drugs are sold in foreign countries because approval processes there tend to be speedier than the FDA's clinical process.
The laws that now exist in 24 states offer a glimmer of hope to patients with illnesses that will kill them long before the pharmaceutical companies produce a medicine, or vaccine, to cure them, Parsons said. The drug, or treatment, must have passed the FDA's Phase 1 testing that determines it has been proven safe in limited trials. The risks and benefits are weighed between doctor and patient.
"These are people who already have a death sentence, and they want to try a drug to save their lives," he said. "This gives them a chance. It's that simple."
Not every medical professional, or lawmaker, sees it his way.
The New York University Langone Medical Center Working Group on Compassionate Use and Pre-Approval Access held a conference call for media and national lawmakers this past week. They talked about what they see as troubling ethics, legalities and practicalities with these laws.
Despite the fervor, these researchers, ethicists and legal professionals said here is no evidence any patients have yet benefitted. They argue the FDA now offers a fast-track process that enables patients to get access to drugs that may not yet be ready for widespread marketing, but have met more medical suitability criteria that make them a better option.
The FDA claims it approves 99 percent of the requests it receives from physicians, some requests approved within days.
Some state lawmakers, though, argue the FDA approval process is too cumbersome and slow. By the time approval is granted, patients have died, they said.
Every year, about 1 million people die of terminal illnesses. Only 1,000 are granted FDA approval for experimental treatments. Clinical trials, too, are limited, according to national health statistics.
The NYU group said it is also concerned that these laws are economically discriminatory.
The laws do not require pharmaceutical companies to make these drugs available, they said. In many cases, these medications, or treatments, are not covered by insurance and so are too expensive for the budget of most eligible terminally ill patients. Some patients may even lose access to their current medical care, such as hospice or palliative care, because they opt for an experimental option.
Parsons finds these arguments "lame."
A Mercedes Benz is not affordable to all drivers, yet they can still be manufactured, Parsons said. "Life isn't fair, but that doesn't mean everybody should suffer."
Opponents argue federal regulations preempt state law, and suggest these laws will not withstand a federal legal challenge, therefore, they are simply producing false hopes. To date, the FDA has not initiated any such lawsuits.
Medical ethicist Arthur Caplan, director of the Division of Medical Ethics at NYU Langone Medical Center, said his group is not seeking to derail the rights of terminally ill patients. They, though, prefer to work with the FDA to modify policies, and expedite their processes, rather than rely on these laws that they do not see as a "useful step forward," Caplan said.
Parsons, and fellow medical proponents, see these laws as that step forward.
"This is common sense. It's not a real mind-twister. This is pretty straight forward in my mind."