Downtown Prescott's Superstition Meadery has exploded into the world market of mead and hard cider

By
Max Efrein
|
mefrein
Originally Published: April 3, 2016 6 a.m.
"That place will never make it."
Jennifer Herbert overheard a passerby make this comment about two years ago in reference to a sign that said "Superstition Meadery coming soon" hanging in the window of the business's location at 120 W. Gurley St. in Prescott.

Little did that person know that Superstition Meadery would soon become one of the most highly regarded meaderies in the world.
Jennifer and her husband, Jeff, opened the half production site, half tasting room about 18 months ago when they discovered that mead — an alcoholic beverage made from honey, water, various fruit, spices, grains, or hops — wasn't just a forgotten, 9,000-year-old relic of alcohol's infancy, but a forgotten, 9,000-year-old relic of alcohol's infancy that is making a major comeback.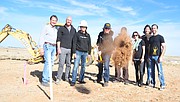 According to the American Mead Makers Association, the number of commercial meaderies in the U.S. has increased from about 30 in 2003, to about 200 in 2013, and now close to 300 in early 2016, with about 50 additional wineries and breweries each making at least one mead in their product lineup.
"Mead in the U.S. is where craft beer was in the 1990s," Jeff said.
There were about 500 craft breweries in the U.S. in the early 1990s, according to the Brewers Association. That has rocketed to about 4,269 craft breweries today.
At the crest of the mead revival wave sits Superstition Meadery.
The business has won a good number of significant awards for its many varieties of mead and hard cider, most recently taking five medals (four gold and one silver) at the Mazer Cup International Mead Competition, the world's largest commercial meadery competition. No other competitor did nearly as well.

Of course, credit must be given to the brewers at Superstition Meadery, but it's relevant to keep in mind that mead is still a widely untapped and unknown market of alcohol. Thus, the competition in the mead world is still quite limited.
"We are working in a small pool. A very small pool," Jeff said.
"Many people have heard of it… but they still just don't know what it is," Jennifer said.
The Herberts themselves barely knew what they were onto when they started brewing the sweet alcoholic beverage and selling it at a small winery in Skull Valley in 2012.
"We never thought it would grow," Jennifer said. "We were going to be happy if we made our money back on the barrels that we paid for. It just became clear later on that this could actually be a real business, so we went for it."
Now, despite their expansion from making 300 gallons of mead their first year of business in Skull Valley to more than 6,000 gallons in 2015 in their current location downtown, it's gotten to the point where the Herberts have to practically beat people back with brewing paddles.
Jeff said they originally thought it would take about three to four years to max-out the production space they currently have underneath Old Capitol Market. To their amazement, it only took about three months.

"We cannot begin to keep up with demand," Jeff said.
The business is so frequently out of stock that the Herberts often have to refuse or postpone requests for their products from distributors all around the country and even parts of the world.
"Our production is committed to over 50 accounts in Arizona, 12 accounts in Iowa, and accounts in Thailand and in Denmark," Jeff said.
It's because of this tremendous growth that the Herberts have decided to pool all of their resources and take out a loan to build a new production facility in the Prescott Airpark Business Center near the airport.
Construction of the 3,750-square-foot building began this week and is expected to be complete in September.
The facility will allow the company to not only meet current and projected demand, but also expand their product line and branch out with a number of offshoot brands.
One will be called Superstition Cellars, which will be Arizona grape wine, and another will be called Superstition Cider House.
The company's capacity for making hard cider right now is 30 gallons at a time. In the new facility, there will be a brite tank that can produce and then carbonate 1,000 gallons at a time, Jeff said.
The facility will not be open to the public, but Jeff said they intend to host one or two special events there every year.
On top of all of this excitement, the couple has two children going through the Prescott Unified School District system and Jeff works as an engineer and paramedic for the Phoenix Fire Department.
"Just working together as a husband and wife team has been really great and the kids know what's going on and are involved in the business," Jennifer said.
The business's tasting room downtown is open every day. For specific hours of operation and more information, go to http://www.superstitionmeadery.com/.
More like this story
SUBMIT FEEDBACK
Click Below to:
This Week's Circulars
To view money-saving ads...