Prescott Multiple offers track & field athletes chance to tune up for rest of season
By
Doug Cook
|
dougout_dc
Originally Published: April 1, 2016 5:45 a.m.
Photo Gallery
Prescott Invitational Track Meet March 31, 2016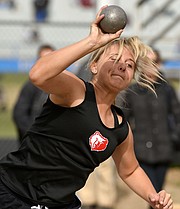 Prescott High Multiple Track & Field Meet
Thursday, March 31, at Bill Shepard Field
INDIVIDUAL WINNERS
BOYS
110m hurdles: Michael Brillhart, Chino Valley, 17.09
100m dash: Justin Castro, Bradshaw Mtn., 11.41
1600m run: Alex Villagran, Bradshaw Mtn., 6:03.40
4x100m relay: Bradshaw Mtn., 44.76
400m dash: Tyler Lockwood, Prescott, 54.86
300m hurdles: Gavin Thompson, Chino Valley, 43.33
800m run: Alex Villagran, Bradshaw Mtn., 2:19.28
200m dash: Abe Hernandez, Bradshaw Mtn., 22.84
4x400m relay: Prescott
Shot put: Luke Heberer, Prescott, 44' 9"
Discus: Ryan Shaver, Bradshaw Mtn., 147' 4"
High jump: Dylan Wallace, Bradshaw Mtn., 5' 8"
Long jump: David Pearce, Prescott, 19' 7"
Triple jump: Paxton Henry, Prescott, 40' 6"
Pole vault: Nathan Hayter, Prescott, 10' 6"
GIRLS
110m hurdles: Bailey Rozendaal, Bradshaw Mtn., 17.48
100m dash: Katie Farnsworth, Chino Valley, 13.22
1600m run: Anna Zea, Bradshaw Mtn., 6:09.74
4x100m relay: Chino Valley, 53.33
400m dash: Kenna McMahan, Prescott, 1:07.73
300m hurdles: Bailey Rozendaal, Bradshaw Mtn., 53.13
800m run: Lauren Foster, Chino Valley, 2:48.55
200m dash: Katie Farnsworth, Chino Valley, 28.07
4x400m relay: Prescott
Shot put: Brittany Resendez, Prescott, 34'
Discus: Brittany Resendez, Prescott, 83' 4"
High jump: Katherine Seigler, Prescott, 4' 8"
Long jump: Abbie Golden, Chino Valley, 15' 5"
Triple jump: Sarah Nguyen, Prescott, 32'
PRESCOTT – On a cold, cloudy and windy spring afternoon at Bill Shepard Field Thursday, March 31, Prescott, Bradshaw Mountain, Chino Valley and Mayer high school track and field teams enjoyed a midseason tune-up.
At the Prescott Multiple, the only home meet for the rebuilding Badgers in 2016, most of the starting distance runners took a break, giving several underclassmen the chance to compete.
On the boys' side, Bradshaw's Justin Castro won the 100m run in 11.41 seconds. Bradshaw's J.P. Renteria was second and Prescott's David Pearce placed third.
Castro, who has fully recovered from a sprained left ankle he suffered during the 2015 season in football, said his 11.41 time is right around his personal best, but he's more focused on improving in the 400m run.
"The 400 is my main event," Castro added. "Today [Thursday] I was just getting some practice in for the 100 – to get some speed work."
In the throws, Prescott's Luke Heberer won the shot put with a 45-foot toss. He is in line to qualify for the Division II state tournament in the shot later this spring. At the Tolleson Invitational March 26, Heberer threw a personal best of 46 feet, 1 inch.
"That was my second-best," Heberer said of Thursday's toss. "I'm shooting for 48 feet."
Bradshaw's Ryan Shaver, whose personal best in the shot put is 44 feet, took second place in the event on Thursday. He said there's a slight chance he could qualify for state in the shot put.
"I'm trying to go for 45, 46 [feet]," Shaver said.
Shaver was a high placer in the discus, too, on Thursday, rifling a 147-foot toss. "I was hoping to be up in the high 150s [in the discus] by this time and, for some reason this year, I'm just not improving from what I was last year," Shaver said. "But today was my best throw of the season."
Also in the field, Prescott senior Nate Hayter won the pole vault by tying his personal-best leap of 10 feet, 6 inches. He said he's hoping for a state qualification, as is teammate Paxton Henry in the long jump and triple jump.
"I've kind of been stuck there for about a year," Hayter said of his 10-foot-6 mark. "I'm working on my ab [abdominal] workouts and getting my feet straight up. It's just a work in progress."
On the track, Bradshaw standout senior distance runner Alex Villagran ran the 800m and the mile on Thursday, finishing the latter in 6 minutes and 3 seconds.
Although his time in the mile wasn't one of his best, Villagran thinks that he will qualify for the D-II state meet in the 800m. He said he's more confident mentally this season, knowing what the expectations are.
"Physically, I feel good and race wise, there's just a couple of things that I need to do," said Villagran, who doubles as a strong cross-country runner.
At Prescott High, Villagran and his Bears' teammates were preparing for the Greenway Invitational, a state-qualifying meet on Saturday, April 2, in Phoenix.
"We consider Wednesday meets, even though this is on a Thursday, glorified practice," first-year Bradshaw Mountain coach Jason Shaver said. "We pulled a lot of juniors and seniors that were on like the 400s [meters]. And most of our juniors and seniors that are running on Saturday, we just ran them a couple races, nice and easy, so we will be fresh."
Castro, Renteria, Abe Hernandez and Villagran are members of Bradshaw's 4x400m relay team that's currently ranked among the top 10 in D-II. They hope to break a time of 4 minutes and 30 seconds by the time state rolls around, and push for the school record (4:27).
"We were just out here having fun on the track before Saturday," Villagran said as he stood next to the track at Shepard Field. "Since there's no practice, we're just trying to run one or two events for the varsity guys and varsity girls, and just get our legs moving a little bit. In two more weeks, times should be dropping a lot."
As for Chino Valley, coach Marc Metz said he's pleased with the progression of his girls' team, which has a legitimate chance to send several athletes to the Division III state meet.
Runner Katie Farnsworth leads the Cougars in the 100m, 200m and 800m. On Thursday, Farnsworth won the 100m. She will run the 800m at today's Scottsdale Distance Classic. "She can do a lot of different events," Metz said.
In the relays, Metz likes what he's got in the girls' 4x100m and 4x400m. Farnsworth, Lauren Foster, Mya Pullins and Sandra Falls form the starting relay contingent.
For the Cougars' boys on Thursday, Michael Brillhart won the 110m hurdles, while Colten Sandberg was second. Gavin Thompson ran the 300m hurdles for the first time and placed first in 43.33 seconds. "It was a fun little meet," Metz said. "Kids were trying different things."
---
At the Tolleson Invitational on Saturday, March 26, Prescott High sophomore runner Makennah Mills placed second in the 300-meter hurdles in 47.27 seconds, breaking the school's sophomore record, which was last set in 1994 (47.72).
In the process, Mills automatically qualified for the D-II state tournament in the event. The automatic state-qualifying time is 47.73 seconds.
On Thursday, Mills did not compete because of the Scottsdale Distance Classic, which will be run from 6 to 10 p.m. today, April 1, at Paradise Valley Community College. The 4x800m run, 3200m, 1600m, 800m and distance medley are the featured events there.
Mills will run in the 3200m at the Distance Classic in hopes of qualifying for state.
Chino Valley will also participate in the Distance Classic, where the focus is on decreasing times as opposed to placing, Metz said.
---
Mayer High's team sent nine of its athletes to Thursday's meet at Prescott. Five of them came away with solid finishes. Those were as follows.
• Shot put: Katie Peterson, senior – finished 2nd with a season-best throw of 25' 10". Jessie LaRue, junior – finished 4th with a season-best 24' 10" throw.
• Discus: Jessie LaRue, junior – finished 6th with a throw of 65' 1".
• 800m: John Blasco, freshman – finished 3rd with a time of 2:46.
• 1600m: Carla Lozania, freshman – In her first-ever track meet, finished 3rd with a time of 8:08.
• 200m: Kwame Jackson, senior – finished 3rd with a season-best time of 23.88 seconds.
The Wildcats will compete at the Sedona Red Rock Invitational on Saturday, April 2.
More like this story
SUBMIT FEEDBACK
Click Below to: