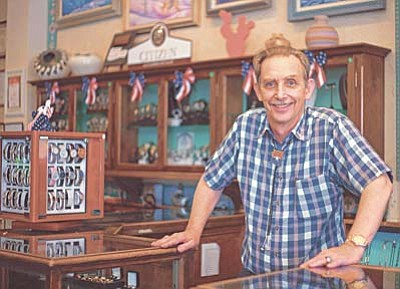 Originally Published: September 6, 2015 1:33 a.m.
Name: Jim Lamerson
Occupation: Jeweler
How long in the jewelry business? As business owner? 43 years in the retail jewelry business, and 23 years as a business owner.
Number of employees? 5
Age: 64
Family: Married 43 years (wife Anne). One daughter, April.
Education: Associates Degree from Clinton Community College in Plattsburgh, New York. Vocational: Graduate's Degree from Gemological Institute of America; Certified Gemologist Appraiser and Registered Jeweler; American Gem Society and Associate Member of the International Society of Appraisers.
Community Activities: Rotary club of Prescott 36 years, which I was the past president of for two terms. Two term board chair for Prescott chamber of commerce. Member of fraternal order of the Eagles. Twelve years Prescott City Council member.
Career Highlights: Standing with my wife and daughter the first day of opening my own business. Receiving the "best of the best" jeweler for the Greater Prescott area numerous consecutive years. Awarded by Market Surveys of America. Receiving Outstanding Young Men of America award given by the United States Junior Chamber.
Most Memorable Moment in Career: When my wife stopped working for the government to join my business as a gem cutter.
On your mind lately concerning your occupation: Too many governmental regulations, taxes, and intrusions into an otherwise free market system.
Book on your shelf: Rich Dad, Poor Dad
How many hours do you work in a typical week? 60 to 80 hours per week. However, as a small business owner it is generally 24-7-365. As you go, the business goes.
What do you do away from work? Generally I am never away from work. However, when I am not sitting at my bench, working on the sales floor, doing bookwork, inventory, making advertisements, communicating with suppliers, and ordering parts and supplies, I hunt, fish and babysit Councilman Blair.
Morning or night person? I am an all-day person either spending time at work, painting, writing poetry, drawing cartoons or working on my canes.
What's your power breakfast? Blueberries, raspberries or blackberries, poached salmon, and an egg.
First job: Paperboy and grocery store bagger as a teenager. My brother and I did landscaping service in Europe on a United States Air Force base and were fairly successful. However, if you mean professionally, it was when I was hired in a retail jewelry store in Plattsburgh, New York in 1972.
Who would you invite to dinner given the choice of anyone? My wife
Favorite music: I like all music.
What's your favorite vacation spot? My private fishing hole.
If you had a free ticket to anywhere in the world, where would you go? That would depend on who would go with me. Because of my M.S., I do not travel alone.
Pet peeve: Laziness and lack of commitment by those who have agreed to do something and don't perform.
Quality you admire in others: Loyalty, honesty, compassion, objective open-mindedness and ambition.
Favorite thing about the quad-city area: I live here with so many wonderful people, many of whom are veterans and or retired public servants.
Worst business/career gaffe? I didn't buy a cache of gold when it was $32 an ounce.
Something most people don't know about you: Why would I put it in the paper so that everybody would know that about me?
Lingering unfinished task: Cane number 12, my next poem, my next painting and continued public service.
What do you aspire to do or accomplish in the next 5 years? To stay alive, stay married, stay in business, stay in Prescott and be happy!
Best advice received and from who? "Do unto others as you would have them do unto you," Luke 6:31.
Best advice you have given? It wasn't really advice, it was a question. When I asked my wife to marry me.
Your outlook on the future concerning the jewelry industry: It's bright for mom and pop self-motivated skilled entrepreneurs. If things would change in Washington, Phoenix and Prescott, diminishing burdensome governmental regulation, small business (the backbone of America) would continue flourishing.
What three words would you use to describe yourself? Honest, determined and compassionate.
What's the best thing about being you? I like myself.
Contact information: Jim Lamerson
Email: lamersonsjewelry@yahoo.com
Phone number: (928) 771-0921
Business address: 105 N. Cortez St.
Prescott AZ 86301
Follow Max Efrein on Twitter @mefrein. Reach him at 928-445-3333 ext. 1105, or 928-642-7864.