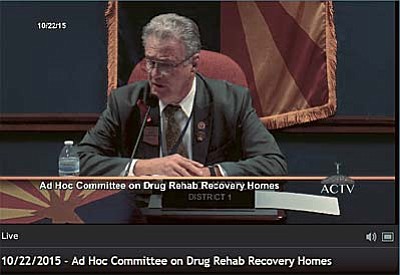 Originally Published: October 23, 2015 6 a.m.
PRESCOTT - Beefing up the registration requirements for sober-living and transitional-housing homes could cost the state more than $3 million a year, according to an official with the Arizona Department of Health Services (ADHS).
Colby Bauer, legislative liaison for the ADHS, told the Arizona Legislature's Ad Hoc Committee on Drug Rehab Recovery Homes on Thursday, Oct. 22, that the type of mandatory registration currently under review by the committee would cost the state about $100,000 per 100 facilities.
Using an estimate of about 3,000 such homes in the state, Bauer said the additional registration requirements could add $3 million to $3.5 million to ADHS' costs.
Prescott State Rep. Noel Campbell, the chairman of the committee, maintains, however, that Bauer's estimate represents "the worst-case scenario."
While noting that he believes this week's meeting was "way too early to talk about (costs)," Campbell said, "I don't think it will cost anywhere near that."
The debate over group home registration and licensing continued to play out at the State Legislature Thursday during the second meeting of the Ad Hoc Committee on Drug Rehab Recovery Homes.
At issue for the 19-member committee is regulation of the "hybrid" group homes, which Campbell defines as those which house people who are bused to licensed facilities to get their treatment, but are not themselves licensed through the state. (Facilities that offer medical treatment currently require state licensing).
While Campbell told the committee members that he is not proposing licensing requirements for the hybrid homes, he suggested a registration system.
"Once they are registered, they would be subject to inspections," Campbell said, which, in turn, would allow officials to determine whether treatment is occurring at the homes.
But the registration idea did not sit well with at least one of the committee members who operates a sober-living home.
Committee member Heidi Skelley, co-founder of the non-profit Skelley House sober-living facility in Phoenix, maintained that mandatory registration would amount to discrimination of a federally protected class of people.
"I don't feel that because you're an addict, you should be put on a map," Skelley said in response to Campbell's suggestion. "I feel that registration is discrimination."
Skelley's comments prompted questions from Prescott's Deputy City Manager Alison Zelms about whether having neighborhoods in which more than 50 percent of the homes are group homes meets the intent of the federal guidelines.
"I would not call that institutionalization," Skelley said. "If you don't want to live there, then you shouldn't live there."
In recent years, Prescott has faced a proliferation of group homes, which prompted the city to approve a number of ordinance changes meant to prevent saturation of group homes in neighborhoods.
In this past year's legislative session, Campbell, who lives in Prescott, proposed a bill for more statewide regulation, but the bill stalled in the senate. Formation of the ad hoc committee was an attempt to deal with the issues before the start of the 2016 legislative session.
Prescott State Rep. Karen Fann asked Skelley for suggestions for preserving a balance in smaller communities. "We are talking Prescott, which has a population of 40,000 people, as opposed to communities of one million (or more)," said Fann, a member of the ad hoc committee.
Skelley maintained that communication is the key for retaining balance, and noted that the Arizona Recovery Housing Association (AzRHA) has been working to improve communications in Prescott.
But another group home owner offered a different view of the realities in Prescott.
Albert Black, ad hoc committee member and owner of Recovery in the Pines in Prescott, told the committee that many of the homes in Prescott have "no supervision, no staffing."
"If you're going to run a halfway house or sober-living house, you have to have the financial wherewithal," said Black, whose facility houses 10 to 15 men at a time, and has 30 staff members.
"What we're missing here is the honest situation," Black said, noting that he had seen many instances of bad behavior by unsupervised residents of other group homes.
The ad hoc committee is scheduled to meet again at 10 a.m. Nov. 4. Campbell said the meeting would include testimony from homeowners about the impacts of group homes on their properties. The meetings are shown online at: http://azleg.granicus.com/ViewPublisher.php?view_id=22
Follow Cindy Barks on Twitter @Cindy_Barks. Reach her at 928-642-0951.