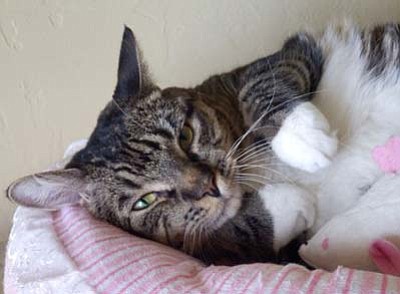 Originally Published: November 24, 2015 6 a.m.
Sadie came to us with her housemate, Fluffy, after their human mom passed away. Both the girls are very large and quite overweight and have become to be known as the "Curvy Girls" at the house. She is one of the most sweet and affectionate cats we have ever taken in. Belly rubs is what she loves, probably because there is a lot of belly to rub. She is quite the sight when she lays on her side or when she is grooming the parts she can reach. She would probably love to just lay on the couch with you all day long. But, Miss Sadie needs a loving home to help her overcome her weight problem with exercise and quality, healthy food. Sadie is a Tabby with white and is 2 years old.
There are many cats at Miss Kitty's who would love to be part of your family. Please call 928-445-5411 or stop by Miss Kitty's Cat House at 302 N. Alarcon St., Prescott, 11 a.m. to 3 p.m. Fridays and Saturdays. Check our online listing of cats for adoption by typing Miss Kitty's Cat House into your search engine.