Prescott's Veterans Day parade thanks the brave for nation's freedom (VIDEO)

By
Nanci Hutson
|
HutsonNanci
Originally Published: November 11, 2015 11:11 p.m.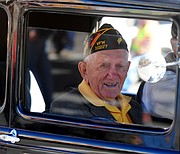 PRESCOTT - On the 11th day of the 11th month at the 11th hour, World War II U.S. Army Air Forces veteran John Pietz was downtown honoring his fellow American heroes as grand marshal of the Veterans Day city parade.
As a central fire controller in the Pacific Theater during his military tenure that extended from 1943 to his discharge in 1949, Pietz was part of 22 flight missions, the most significant to him a food drop for fellow servicemen captured by the Japanese. After the war, Pietz became a chemist. His claim to fame is a patent for the chemical compound that instantaneously inflates automobile airbags on impact.
Yet the 90-year-old veteran said to be selected as grand marshal was the grandest of salutes.
"I am thrilled beyond all expectations," Pietz said as he did a brisk walk up Cortez Street after finishing the parade route.
He and fellow World War II veterans were treated to handshakes, applause and a loud cry of "Greatest Generation" by parade attendees seeking to honor this nation's still-living heroes.
"This is one of the finest honors I have ever received," Pietz declared.
On a jacket-weather day accompanied by a cloudless, cerulean sky, thousands of area residents spared an hour or more to give thanks to those who have fought for their freedom, some attending with their pets, their children, or with neighbors and co-workers. Every branch of the military service was represented in one way or another, as well as veterans of various wars, be it a Vietnam veteran wearing a camouflage hat or a World War II pilot in a wheelchair wearing a decorated bomber jacket.
Walking on the sidewalk just beyond the Yavapai County Courthouse, Korean War veteran George Jaeger, 79, of Prescott, said he would be no other place on Veterans Day.
"We're blessed with our freedom because so many bought it with their blood," Jaeger said.
Fellow veteran Ruth Ann Bragg concurred.
"I come every year because I'm a (U.S.) Marine," said the local resident who served between 1955 and 1958. "And I think it's just spectacular that so many personnel are getting to participate in the parade. It just makes it all so meaningful."
The parade kicked off from the corner of Cortez and Willis streets at 11 a.m. A formation of three North-Aire Cessnas, a single-engine and two twin-engines, did a flyover at just past 11:11 a.m., but the pre-parade ceremonies with city and other local dignitaries started a half hour earlier.
Embry-Riddle Aeronautical University student and veteran Keaton Lyon positioned himself right across from the main stage with his two sons, Jaren, 5, and Landon, 3.
The U.S. Marine, who served between 2009 and 2013, said he wanted to pay homage to all veterans, and teach his sons by example that there are some things in life that are "bigger than us."
Follow Nanci Hutson on Twitter@HutsonNanci Reach her at 928-445-3333 Ext. 2041 or 928-642-6809.
SUBMIT FEEDBACK
Click Below to:
More like this story