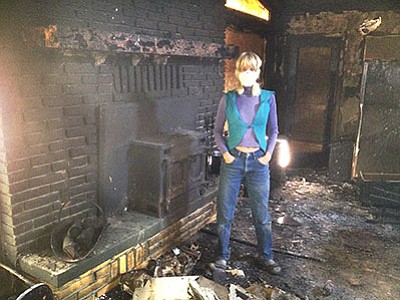 Originally Published: November 5, 2015 6 a.m.
PHOENIX - Describing the group-home industry as a "failure," "barely controlled chaos," and an "impossible situation," Prescott residents and property owners let members of the state Ad Hoc Committee on Drug Rehab Recovery Homes know this week of the impacts to their neighborhoods.
More than a half-dozen witnesses - most of them from Prescott - appeared before the committee at the state Legislature Wednesday, Nov. 4, for the third in a series of four meetings planned on the group-home issue.
While the previous two committee discussions had focused on possible regulation changes, this week's meeting was devoted to the impacts - on the residents, landlords, clients, and parents.
Most of the speakers pushed for licensing or registration of the type of home that has flourished in Prescott - a "hybrid" home, defined by committee chairman, state Rep. Noel Campbell, as those that house people who are bused to licensed facilities to get their treatment, but are not themselves licensed through the state.
Local resident Mary Beth Hrin maintained that the proliferation of unregulated sober living homes in Prescott has created a situation of "barely controlled chaos."
She outlined a plan that she said would help to get a handle on the situation through required state registration and management standards.
In some cases, Hrin said, vulnerable clients go directly from a drug detox center to a group home, where "the supervision is zero." She added: "This is what happens when there's no regulation."
Others told stories of how group homes in their neighborhoods had affected their quality of life.
Erin Burk said she began in 2012 to watch the passenger vans that were coming and going from a group home near her central-Prescott house. She said she discovered that the vans were leaving bags of prescription drugs, such as oxycodone, on the front driveway. In addition, Burk said, her husband's vehicle has been broken into numerous times, and she has found needles in her front yard.
"When is it too much for a little town?" Burk asked. She asked the committee to "help us help our children to feel safe."
Happy Oasis, who owns a home just outside Prescott city limits in the Granite Dells, said she rented out her home, and it subsequently was used as a group home. A fire that Oasis alleges was caused by the group home, later destroyed her home.
Oasis said the issue is not unique to her home, or to Prescott. "We are in a state of emergency," she said, suggesting that Gov. Doug Ducey "declare a state of emergency over this problem."
Constance Cantelme, who lives in Prescott's historic downtown area, said the concentration of group homes in the neighborhood is bringing lifestyle and culture changes.
With a success rate of only about 5 percent, Cantelme said, "The rehab industry is a failure. It gives empty promises to the family, the addict, and the community."
And, referring to the earlier estimate by an Arizona Health Department of Health Services official that registration of sober-living and transitional-housing homes could cost the state as much as $3 million per year, Cantelme said such costs "would be far less than the current costs to the city."
***
Campbell, whose bill for heightened regulation failed during last year's legislative session, said the goal for legislation in the coming session would be for required state registration of the hybrid homes.
"Right now, we have no way to inspect these homes," Campbell said. "Any complaints are null and void without having registration."
State Rep. Karen Fann responded that she would like to see the matter "kept on a local level as much as possible (through conditional use permits)."
Added Fann: "To ask the state for more money right now is probably not going to happen."
Prescott Deputy City Manager Alison Zelms noted that the City of Prescott's rules and regulations pertain to zoning regulations and are not related to medical services or treatment outcomes.
The city recently approved stricter regulations on the number of unrelated people who can live in a group home, as well as buffer zones between new group homes. But, Zelms said, "We do have many grandfathered homes."
Theresa Ulmer of the Arizona Recovery Housing Association said the City of Mesa had a similar problem about 10 years ago, and adopted stricter regulations. The regulations ultimately helped to solve the problems, she said, noting that Prescott's new regulations could have a similar outcome.
Meanwhile, Ulmer cautioned against required registration for sober living homes. "It's very dangerous," she said. "Cities are sued when they get over-aggressive to ask these sober-living homes to register."
Campbell said the fourth and final committee meeting would take place at 10 a.m. Wednesday, Nov. 18, and would focus on the insurance industry's involvement in group homes.
Follow Cindy Barks on Twitter @Cindy_Barks. Reach her at 928-445-3333 ext. 2034, or 928-642-0951.