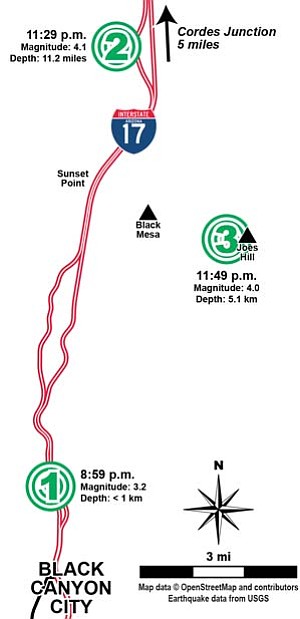 Originally Published: November 2, 2015 10:06 p.m.
A series of three earthquakes rattled the area around Black Canyon City on Sunday evening, Nov. 1, and were felt by Arizonans from north of Flagstaff to south of Casa Grande.
"It was a rumbling, thundering sound," said Joan Preston of Prescott.
She and her husband were watching TV in their home in The Ranch at Prescott south of the Prescott Gateway Mall when they heard a sound like a loud truck approaching.
"It kept getting a little louder and coming a little closer," she said.
By the time they turned down the TV, the sound was gone, but her husband, Bill Preston, said he felt the earthquake.
What he felt and heard was the largest of three temblors 3 to 11 miles north of Black Canyon City.
U.S. Geological Survey initially located the epicenters, later refined by research geologist Jeri Young using 15 Arizona Broadband Seismic Network and the Arizona Earthquake Information Center seismometers.
The Black Canyon City sequence of quakes started with a 3.2 magnitude foreshock approximately 3 miles north of Black Canyon City at 8:59 p.m. Seismologists indicated this first quake was at a very shallow depth - between 0.6 and 3 miles below the surface.
The main quake occurred at 11:29 p.m. about 11 miles north-northeast of Black Canyon City at a depth of approximately 7 miles and registering at 4.1 magnitude. The largest aftershock, 20 minutes later to the south of the main quake, was a magnitude 4.0 quake at a depth of about 3 miles.
According to the Arizona Geological Survey, there were other smaller aftershocks, but they were too small to be accurately located. The two closest seismometers are near Payson and Wickenburg.
More than 5,000 Arizonans reported feeling the main quake, according to U.S. Geologic Survey. None reported any property damage.
Horseshoe Fault, located 22 miles south-southeast of the main shock, is the closest active fault. Seismologists said residents of Black Canyon and the surrounding area can expect aftershocks for several months, though most will go unfelt.
According to historical data maintained by the USGS, the last 3.0 or higher magnitude quake in the immediate area was in May 2009 about 2 miles southeast of Sunday's main quake.
The largest recorded earthquake in Arizona measured 5.6 magnitude near the Arizona-Utah border north of Fredonia in July 1959. The largest in Yavapai County was a 4.9 magnitude earthquake in February 1976 just outside the Granite Oaks subdivision northwest of Prescott.
The most active area for earthquakes in northern Arizona is north of Sedona, where five quakes magnitude 3 or higher have occurred in the past 12 months, the largest of which was 4.7 magnitude on Nov. 30, 2014.
Follow reporter Les Bowen on Twitter @NewsyLesBowen. Reach him at 928-445-3333, ext. 1110, or 928-830-9305.