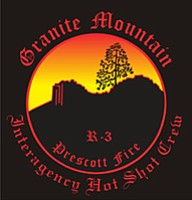 Originally Published: May 31, 2015 12:47 p.m.
PRESCOTT - The Yavapai County Board of Supervisors has a full plate for its Monday meeting, including decisions on the Sheriff's Office request to buy body cameras, designating an area on the Courthouse Plaza for a Granite Mountain Hotshots memorial, a resolution supporting a detailed study of a proposed mining operation near Kirkland, a use permit for a vacation rental home near Thumb Butte, and more budget talks.
The meeting starts at 9 a.m. at the county administration building at 1015 Fair St. in Prescott. People also can watch via the supervisors' website at Yavapai.us/bos. The full agenda and back-up materials also are available via that website.
The Sheriff's Office is asking to use $129,000 of money left in this year's budget to buy 65 body-worn cameras and associated equipment for patrol officers in the Prescott and Verde Valley regions. More than $55,000 of the cost is for annual video storage fees.
The supervisors may vote whether to set aside 350 square feet on the southeast side of the Courthouse Plaza for a memorial to Prescott's 19 hotshots who died battling the Yarnell Hill wildfire on June 30, 2013. The non-profit Granite Mountain Hotshots Memorial Partnership wants to choose the design for the memorial, and its website at gmhsmemorial.com says it will solicit ideas from the public.
Its board includes Danny Parker, whose son Wade died with his fellow Granite Mountain Hotshots; former Prescott Fire Chief Bruce Martinez, Yavapai-Prescott Indian Tribe President Ernie Jones, third-generation rancher and developer Bill Fain of Prescott Valley, former long-time County Administrator Jim Holst, and former Granite Mountain Hotshot Patrick McCarty.
After Supervisor Rowle Simmons attended a May 14 meeting of more than 100 concerned citizens in Skull Valley, the board is supporting an environmental study about the potential impacts of a proposed mining operation near Kirkland.
Rem Hawes, Hassayampa field manager for the U.S. Bureau of Land Management, said he plans to require an environmental analysis after hearing people at the meeting too. The BLM plans to conduct its own public meeting within a month, he said.
The Kirkland Mining Company has applied to the BLM to reprocess about 42,000 tons of old volcanic tuff rock stockpiles located on about three acres of BLM land between Kirkland and Skull Valley near the Kirkland-Skull Valley Road (Iron Springs Road), Hawes said. The mine used to be used for kitty litter ingredients but has been dormant since the 1980s, Hawes said.
"We're essentially just going in and cleaning up what's already there," Kirkland Mining Company Vice President Areta Zouvas said over the phone recently.
The company has owned the rights to mining claims on a total of 320 contiguous acres for 28 years, Zouvas said. It's working on a mining plan for the entire 320 acres. It probably will take a decade to mine five acres at a time, she added. All of it will be surface mining.
The tuff rock has numerous environmentally friendly uses and her company has narrowed it to four, Zouvas said: a cement ingredient, soil amendment, water filtration and waste remediation, since it absorbs oil spills and toxins.
Potential concerns from neighbors include hazardous dust, noise, increased traffic, bright lights and obliteration of a scenic landscape, neighbor Allison Dixon posted on her website at kirklandmineforum.org.
The vacation rental along Thumb Butte Road got a unanimous recommendation of approval from the planning commission after no one voiced opposition. Owner Scott McConaughy sought a permit after someone complained he was offering short-term rentals at a cottage next to his home without the required county use permit.
The county's new budget year starts July 1, and the supervisors have conducted numerous meetings to discuss it so far.
Follow Joanna Dodder on Twitter @joannadodder. Reach her at 928-642-0560.