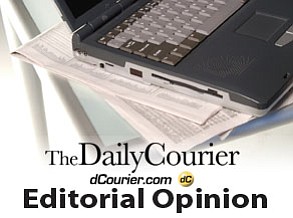 Originally Published: May 14, 2015 6:03 a.m.
The Arizona police and firefighters pension system has been in trouble basically since 1999 ... and after the Great Recession, forget it. Recovery wasn't happening.
Add in a lawsuit and you now have a system that is only 49 percent funded. Inevitably, that turns into a mandatory call for huge payments from municipalities and fire districts to cover the other half.
Trickling down further, local fire departments, libraries and other services are reduced or staff laid off in order to move money to cover the retirement system payments.
It is a bleak picture.
Thanks to one smart guy, though, that could change.
Professional Fire Fighters of Arizona (PFFA) President Bryan Jeffries shared an idea that will require voter approval, so please read on - and also check out today's story on the issue.
Basically, the plan requires employees to work six years longer or turn 60 to be eligible for benefits; includes a higher employee contribution to the system; and cuts Cost of Living Adjustments to a maximum of 2 percent.
Most of us don't care about other people's retirement plans. However, this one needs your attention ... so your future local services do not vanish - and they will if something doesn't change.
We report this in the story out front, but I'm going to repeat it so it sinks in: "To make the change legal, voters would have to approve a referendum changing the state constitution. The PFFA is prepared to fund a campaign in 2016, Jeffries said, noting that having the backing of firefighters and police should make it 'an easy sell' to voters. If approved, he said, the average employer contribution rate would drop to 30 percent and, once the PSPRS was again fully funded and sustainable, which would take an estimated 18 years, employers would pay just 10 percent on average."
I spend a lot of time urging people to get out and vote if you don't like the way things are being run. Now, I'm giving you a year's notice. We'll keep watch on this plan and we will be reporting from the legislature when this issue gets there. Don't just let this ride and assume someone else will vote the way you want and do not assume it doesn't concern you - it does.
- Robin Layton, editor
Follow Robin Layton on Twitter @RobinLaytonAZ. Reach her at 928-445-3333 ext. 1095, rlayton@prescottaz.com or 928-533-7941.