Tallest home in America, located in Prescott, now for sale

By
Max Efrein
|
mefrein
Originally Published: May 1, 2015 6:01 a.m.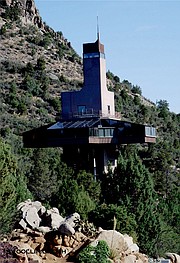 One of the world's most unique residential properties dwells on the slopes of Thumb Butte and is now on the market.
The Sukumar Pal residence has four residential architecture world records, including the tallest single-family home in North America at 124 feet and one for its unconventional heating and cooling systems that utilize passive solar for winter heat and micro climate and convective cooling in the summer, according to a news release.
The 6,200-square-foot house, known as "Falcon Nest," was designed by its owner, Pal, a Phoenix architect who specializes in energy-efficient homes.
Falcons are often seen flying around Thumb Butte and the home resembles a large bird's nest perched on the side of the mountain.
The nine-story (tower top is 10th) residence, was built in 1994, and has been featured on HGTV's Extreme Homes.
Falcon Nest is priced at $2.8 million. It cost almost $4 million to build. Pal chose the rocky hillside on the west side of Prescott after surveying 200 sites throughout Arizona. He wanted to build a home as tall as possible, to create the chimney effect that is paramount to the natural heating and cooling of the home, while providing the most amazing views.
Despite its stature, the footprint of the home is less than 1,000 square feet. Realty Executives Northern Arizona has been selected to market the sale. The agents managing the listing, The Ray Team, say that homes such as this aren't necessarily affected by the swings of the housing market due to their novelty.
"This is one of those homes that appeals to very wealthy people who are looking for unusual one-of-a-kind homes," said Jack Norm Ray, manager of The Ray Team. "We're thinking it will probably be a millionaire looking to add to his or her collection of exotic homes."
The Ray Team can be reached at 928-379-3100 or at its website: www.PrescottAreaLiving.com.
https://www.youtube.com/watch?v=gGkIQOeO7Bg
Follow Max Efrein on Twitter @mefrein
More like this story
SUBMIT FEEDBACK
Click Below to:
This Week's Circulars
To view money-saving ads...