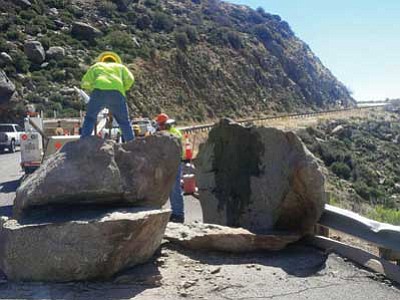 Originally Published: March 5, 2015 6 a.m.
Yavapai County didn't get much snow out of the recent four-day storm period, but it saw plentiful rains that pushed a huge boulder onto Highway 89.
The warm storm continues a winter trend of well-above-average temperatures across northern Arizona that brought a record-warm February to Prescott and Chino Valley.
The official National Weather Service site at the Sundog wastewater treatment plant in Prescott recorded 1.85 inches of precipitation from Feb. 28 through March 3. By comparison, the long-term average is 1.85 inches for February and 1.70 inches for March.
Other parts of northern Arizona received even more precipitation to kick off the month of March, such as 4.64 inches in Oak Creek Canyon where officials were concerned about flooding.
The plentiful rains caused a 20-ton boulder to roll off the steep, rocky mountainside above Highway 89 south of Yarnell, where the road winds down to the Sonoran Desert.
Luckily no one was hit by the boulder, which measured about 10 feet wide by seven feet high. An Arizona Department of Transportation employee first reported it at 8:47 p.m. Monday, ADOT spokesperson Caroline Carpenter said. Drivers were able to get around it.
The boulder damaged the asphalt on both lanes and the guardrail as it rolled across the highway, Carpenter said. Crews broke it up and removed it Wednesday.
While Prescott's Sundog site recorded only a half-inch of snow from the recent powerful storm, higher elevation areas saw impressive snowfall totals including 45 inches at the Arizona Snowbowl ski area, 27 inches on the North Rim of the Grand Canyon, and 18 inches at Flagstaff.
Record heat
If it felt like the wrong season in Prescott last month as trees and plants began to bloom, it's not your imagination.
Prescott's Sundog site and airport both registered record-high temperatures for the month of February alongside Chino Valley and Flagstaff, according to a report from the National Weather Service on Wednesday. Their records date back to 1898, 1948, 1943 and 1899, respectively.
Elsewhere across northern Arizona, it was the second-warmest February on record for Seligman, Jerome, Payson, Winslow and the Petrified Forest.
Numerous sites throughout northern Arizona set a total of 31 daily high temperature records in February - possibly a record in itself.
The Prescott airport and Seligman both set two daily high temperature records on Feb. 18 and Feb. 19.
The Prescott airport recorded 71 degrees on Feb. 18, tying the 1981 record. It recorded 72 degrees on Feb. 19, also tying 1981.
Seligman recorded 73 degrees on Feb. 18, tying the 1930 record, and 74 degrees on Feb. 19 to break the 1981 record of 73. Its records date back to 1905.
Cottonwood set a high of 76 degrees on Feb. 4, tying the previous record of 76 degrees from 1963. It also set a record of 78 on Feb. 10, tying the 1996
record. Its records date back to 1977.
The average daily high temperature at Sundog in February was a whopping 10.9 degrees above the long-term average of 53.9 degrees, while the average low was 6.4 degrees above the long-term average of 24.1 degrees.
February registered 1.06 inches of precipitation this year at Sundog, or only 57 percent of the average dating back to 1898.
All that precipitation fell during one widespread storm on Feb. 22-23. Higher-elevation areas saw plentiful snow, including 26 inches at the Arizona Snowbowl ski area.
Not surprisingly, Prescott's Sundog site didn't record any snow in February. The city's long-term average is 4.7 inches.
Follow Joanna Dodder on Twitter @joannadodder