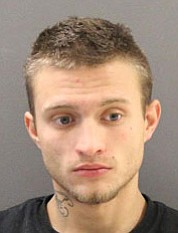 Originally Published: March 1, 2015 1:44 a.m.
PRESCOTT - Yavapai County Sheriff's Office thanked news outlets Friday, Feb. 27, after the second suspect in a burglary investigation turned himself in to his probation officer.
"Suspect Mykel Stevens turned himself in to his probation officer this afternoon and was arrested by YCSO deputies," Sheriff's Office spokesman Dwight D'Evelyn said, thanking media outlets for their assistance in publicizing the search for the 23-year-old Prescott man.
The Sheriff's Office arrested the other suspect, Dominic Croslin, 22, of Prescott, earlier in the week with help from Yavapai Tribal Police who recognized both suspects from a recent case involving similar charges.
Earlier this month, the sheriff's office released information about the theft of a woman's credit card, cash and ID from an unlocked pickup truck around Jan. 27.
The truck was at the home of the 58-year-old victim in the 800 block of Arroyo Drive in the Mountain Club Division of Prescott, D'Evelyn said. The owner last saw the property Jan. 24, but discovered it had been stolen three days later.
By the time she called deputies, she found that the suspects had already used her bank credit cards at Wal-Mart and an area Mexican restaurant, resulting in a loss of several hundred dollars, according to the sheriff's office.