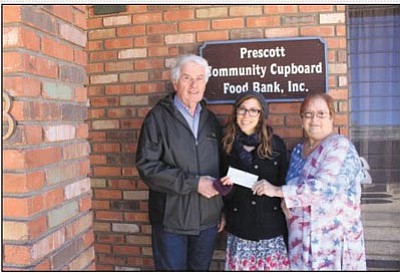 Originally Published: June 3, 2015 6 a.m.
The Ladies Auxiliary of the Prescott American Legion Post 6 recently made a generous donation to the Prescott Community Cupboard Food Bank (PCCFB). This donation will help the Cupboard to stock its shelves to provide much-needed meals this spring.
Dave Barnard, the current board chair of PCCFB, was greatly appreciative upon learning about the donation. "The Ladies Auxiliary is a wonderful gift to our community." They chose to support the PCCFB because many of the food bank's clients are veterans.
Like all food banks, the Prescott Community Cupboard is always looking for donations to keep up with demand. Every food drive, fundraiser and donation helps. The Prescott Community Cupboard has resources on its website to assist organizations in holding food drives on its behalf, as well as instructions on how to give donations.