Prescott man: AZ's senior senator 'was and is a hero'
Arlene Hittle
Originally Published: July 27, 2015 6 a.m.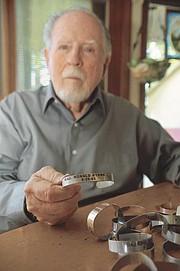 Anyone who doubts John McCain is a hero can ask Prescott resident Ronald E. Byrne Jr.
Byrne, now 86 and a retired U.S. Air Force colonel, has firsthand experience with Arizona's senior senator, because for a time, they were captives in the same POW camp in Vietnam.
"I saw John McCain in a POW camp risking torture in order to maintain our communication system," Byrne said, calling that system the prisoners' "lifeblood." "John McCain was and is a hero."
Byrne attended the U.S. Merchant Marine Academy before entering the U.S. Air Force in 1951 - in time for the Korean War. He flew more than 75 combat missions over North Korea in an F-86. His job was to keep enemy aircraft from attacking U.S. bombers, and he had the privilege of flying with the top jet ace of that war, Joe McConnell.
After the Korean War, he returned stateside.
"Some of my friends got out and joined the airlines," he said.
Byrne, however, remained in the military. His reason: "the ability to fly some of the world's best airplanes."
He held various positions in aircraft engineering and research and development. Among his assignments was project officer with the Titan Missile Program Office in California. He worked on the Titan I and II missiles.
Byrne returned to full-time flying in 1964, and was assigned to the 67th Tactical Fighter Squadron out of Okinawa. On his 27th combat mission, on Aug. 29, 1965, he was shot down west of Hanoi. That began his 7.5 years as an unwilling guest of the North Vietnamese.
He spent 2,724 days in captivity, alternately tortured and trotted out for Viet Cong propaganda opportunities, before his release on Feb. 12, 1973.
"We were tortured not for military information but for propaganda value," Byrne said.
While Byrne was in captivity, wife Joanne raised their four sons. His oldest boys, twins, were about to start second grade when he left.
"I came back and they were in high school," he said.
While he was a POW, he received a letter from Joanne saying that he would have to return to take care of the boys, because she wasn't well. She died a year and a half after his return.
He later met his second wife, Marie, a widow with two daughters.
"So we put together a family of four sons and two daughters," he said. They were married in August 1976, and will celebrate 39 years together next month.
Unlike the reception many soldiers got upon returning home from Vietnam, Byrne said the returning POWs were received well.
"We were the heroes that everybody was desperate to find in the war that no one wanted," he said.
An L.A.-based student group called Voices in Vital America distributed metal bracelets with POWs' names on them, to be worn until the men were declared dead or came home. On the walls of his home in Prescott, Byrne has two chains made of bracelets with his name. People started sending them to him once he returned.
"Some of them came to me in pieces," he said, explaining that they'd been worn so long that they started to fall apart.
Byrne retired from the military in October 1977. Then he spent nearly two decades with Motorola, working in engineering management, before fully retiring in 1992.
When it came time to retire from the military, he and Marie put a map up on the wall. They visited Tampa-St. Petersburg, Austin, Texas, and Phoenix. Even though they were in Phoenix in July, it was the best of the three. Credit the "dry heat" of an Arizona summer. They lived in Tempe at first, buying their place in Prescott in 1986.
Now that he's retired, Byrne has served on the Highland Pines Water Board and the area's homeowners board. He also sings in a barbershop chorus, the High Mountain Chordsmen.
"I've always liked music, and it turns out I have a fair voice," he said.
In reflecting for this article, he said that one would be hard-pressed to put 27 years of military life in one story. The best one can do is focus on one part of the story.
"In my case, I guess the POW experience is my big segment," he said.
One positive that came out of the experience: "It gave me an appreciation for the value of friendship." He added that folks can be friends even if they have diametrically opposed opinions of certain events.
The words of Col. Larry Guarino, Byrne's friend and cellmate for 44 months, are a testament to the value of friendship. He included Byrne in the acknowledgments of his memoir, "A POW's Story: 2801 Days in Hanoi."
"Ron had a sometimes very difficult person to live with, but he was more than up to it. His optimism had much to do with my mental survival, and on more than one occasion, I know he saved my life," Guarino wrote. "There can be no closer friends than two men who have suffered together."
Follow Arlene Hittle on Twitter @ahittle_dc. Reach her at 928-445-3333 ext. 2036, or 928-830-2928
More like this story
SUBMIT FEEDBACK
Click Below to: