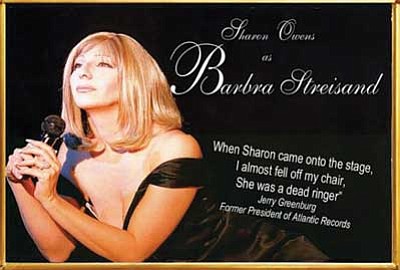 Originally Published: February 26, 2015 8:11 p.m.
The sun has come out and happy days are here again as a tribute to The Barbara Streisand Show is making its way to Prescott on Saturday, Feb. 28. Presented by Tad Management and held at the Elks Theatre and Performing Arts Center, the act features Sharon Owens, as Streisand.
Owens said she didn't start out her career with the intention to portray Streisand, noting that the thought about getting into it makes her chuckle.
"I have a degree in music," Owens said. "I thought I was going to be on Broadway."
She said her first foray as Streisand was when she spoofed her at a dinner theater. Someone said she was so much alike the real thing that she should do it for real and Owens has been doing it ever since.
Owens also noted something she didn't notice until she started doing the tribute was that her vocals are very close to Streisand. She called it the coolest thing.
"Put yourself in my shoes, I've been a singer since I was 9," Owens said. "The fact that I get to use my chops for Streisand music is really cool."
And she's been doing it for so long that Owens said that the famous songs are getting old for her. However, her favorite songs to sing are from Streisand's movie, "Yentl," which she called really good music.
Owens said she loves for people to come to her shows and get lost in the fantasy that she is Streisand, but once she steps off the stage she's still herself.
"I'm more or less an actress, I have my own interpretation," Owens said, stating that she's trying to portray Streisand as best she can so people can "think they saw the real Streisand."
Owens said she is really excited and looking forward to coming to Prescott, adding she loves to meet the audience after the show is over.
The Barbara Streisand Show will be on stage Saturday, Feb. 28, at 7 p.m. at the Elks Theatre and Performing Arts Center, 117 East Gurley Street.
Tickets are $25 for adults and $22 for seniors and are available anytime online at www.prescottelkstheater.com or by calling 928-777-1370. Tickets are also available at the door one hour prior to performance.
Follow Jason on Twitter @PrescottWheels