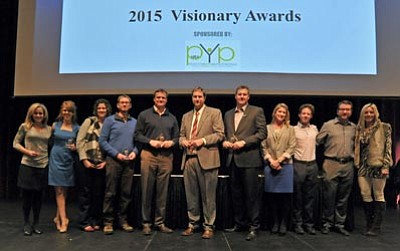 Originally Published: February 1, 2015 6:02 a.m.
Prior to the Chamber of Commerce business awards, the Prescott Area Young Professionals gave out the group's fifth annual Visionary Awards.
Eight young professionals with great potential were honored:
• Ariania Bennett, account executive for Cable One Advertising and PAYP membership chair.
• Michelle Blevins, membership and marketing director of the Prescott YMCA and a volunteer with numerous groups.
• Jessica Compton, recreation coordinator for the Town of Prescott Valley and PAYP volunteer coordinator.
• Stan Goligoski, executive director for the Yavapai County School Superintendent - a native who moved back to Prescott in 2012 after 20 years in the military.
• Andy Jolley, founder of the Prescott Law Group and youth sports coach.
• Michael Kouvelas, owner of the Hassayampa Inn and board member for the Boys and Girls Club of Central Arizona.
• Alex Wright, director of the Yavapai College Regional Economic Development Center - while working on a doctorate concerning community development in the 21st century.
• Toby York, owner of the Peaks Realty, the Hike Shack, Phantom Tek, Rugged Trail Tours and Prescott Peaks Group. He is also a board member for the Highlands Center for Natural History.
More like this story