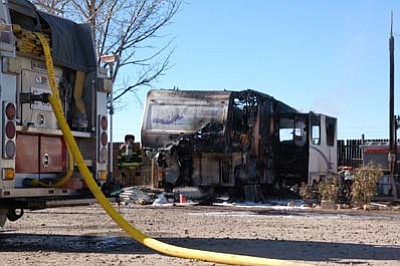 Originally Published: December 28, 2015 6:27 p.m.
PAULDEN - Firefighters contained a fire to a single trailer at a mobile home park midday Monday, Dec. 28.
A single occupant of the fifth-wheel trailer in Paulden RV Park, adjacent to the Paulden Pink Store evacuated safely, said Chino Valley Fire District Battalion Chief Mathew Mayhall.
He said firefighters had responded to the same trailer earlier Monday after a poster above the stove caught fire. Mayhall said firefighters inspected the trailer with thermal imaging equipment before leaving.
"And then we came back to an actual fire," he said.
The fire district sent two engines and a tender to the mobile home park, and firefighters extinguished the blaze quickly, Mayhall said
However, there was extensive fire damage and the trailer was a total loss. Two adjacent trailers were damaged by heat.
Mayhall said fire investigators determined the fire started in bedroom area of the trailer, though they could not identify the specific source. The fire remains under investigation.
More like this story