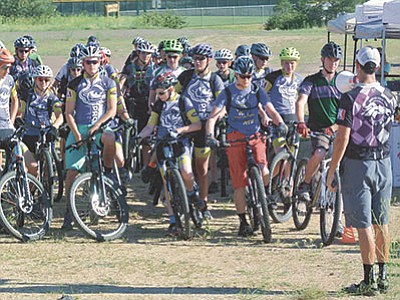 Originally Published: August 23, 2015 7:33 p.m.
Approximately 50 high school mountain bike riders receive their final instructions before hitting the Brownlow trail system in Prescott Saturday for the first Arizona High School Cycling League Bike-a-Thon for the six area high schools participating in the league.
Riders from Bradshaw Mountain, Canyon View, Chino Valley, Northpoint, Prescott and Tri City Prep particpated.
The season's first race is Sept. 13 in Flagstaff at Fort Tuthill County Park; Pioneer Park in Prescott on Sept. 27; Oct. 11 in Fountain Hills at McDowell Mountain Regional Park; Oct. 25 in Lake Havasu at the SARA Park; and the season finale at White Tank Regional Park in Waddell on Nov. 8.
More like this story