Test scores not the true measure of a child, or adult

Originally Published: September 19, 2014 9:28 a.m.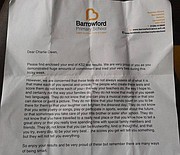 If you are the parent of a smart and talented child that does not fit the world's definition of smart and talented, you will see the truth in this blog entry.
If you are an adult that struggled in school because you did not do well on standardized tests, I hope you too will see the truth in this blog entry.
If you have ever felt inadequate or less valuable than another human being because of a grade placed at the top of a test paper, I want you to know that particles of ink are not the true measure of a man or woman.
Disclaimer
But first, a disclaimer and a statement to get something out of the way.
You are about to read a letter from a British headmistress. In July, she sent the letter, along with key test results, to her year 6 students at Barrowford Primary School in Lancashire in the north of England.
Headmistress Rachel Tomlinson has since acknowledged that she crafted the letter using text she found online. She did not credit the original author. When a parent shared the letter on social media Tomlinson was lambasted for what some people perceived as a disgraceful act of plagiarism.
But even the original author, American teacher Kimberly Hurd Horst, recognized that Tomlinson's motives were sincere. Horst graciously responded to the uproar by saying that, "the message is much, much, much more important than the messenger. Thx for acknowledgement."
The Message
Here is the letter Tomlinson shared with her students about their test scores:
Dear Charlie Owen,
Please find enclosed your end of KS2 test results. We are very proud of you as you demonstrated huge amounts of commitment and tried your very best during this tricky week.
However, we are concerned that these tests do not always assess all of what it is that make each of you special and unique. The people who create these tests and score them do not know each of you - the way your teachers do, the way I hope to, and certainly not the way your families do.
They do not know that many of you speak two languages.
They do not know that you can play a musical instrument or that you can dance or paint a picture.
They do not know that your friends count on you to be there for them or that your laughter can brighten the dreariest day.
They do not know that you write poetry or songs, play or participate in sports, wonder about the future, or that sometimes you take care of your little brother or sister after school.
They do not know that you have travelled to a really neat place or that you know how to tell a great story or that you really love spending time with special family members and friends.
They do not know that you can be trustworthy, kind or thoughtful, and that you try, every day, to be your very best... the scores you get will tell you something, but they will not tell you everything.
So enjoy your results and be very proud of these but remember there are many ways of being smart.
---
Thank you Headmistress Tomlinson.
I believe the true measure of every girl and boy, woman and man, is seen most clearly by those who love you most dearly.
SUBMIT FEEDBACK
Click Below to:
More like this story