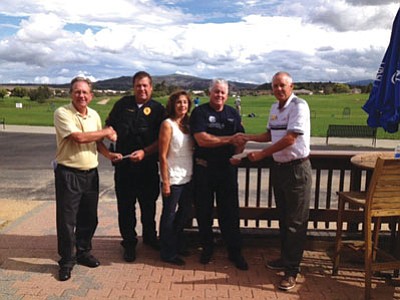 Originally Published: September 15, 2014 6 a.m.
Guns and Hoses John Hanna Sr. Memorial Golf Tournament, netted over $9,000.
Proceeds will go to the Prescott Police Explorers and Prescott Firefighter Charities.
Pictured from left to rightare Tom Tiley, tournament marketing director for Antelope Hills, Officer Dave Fuller, Prescott Police Department, Sherrie Hanna, Dan Hutchison representing Prescott Firefighter Charities and John Farrell, Manager of Antelope Hills Golf Course.