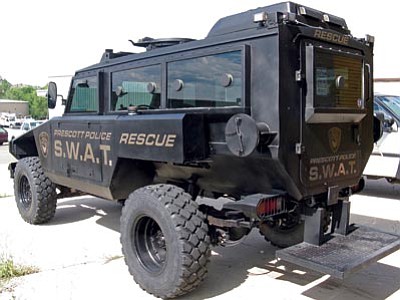 Originally Published: September 11, 2014 6:05 a.m.
PRESCOTT - It's called the Department of Defense Excess Property Program, or 1033 Program, and, if you don't know the name, you've still likely heard about it. The program exists to transfer "excess" military property to state and local law enforcement, generally for no more than the cost of shipping.
The 1033 program is in the news because much of the hardware used by the Ferguson Police Department in Missouri was former military equipment supplied by the program.
The goal of 1033, according to the 1990 National Defense Authorization Act, is to "transfer to Federal and State agencies personal property of the Department of Defense, including small arms and ammunition, that the Secretary determines is - (A) suitable for use by such agencies in counter-drug activities; and (B) excess to the needs of the Department of Defense."
Since the terror attacks of Sept. 11, 2001, police departments around the country have accelerated their efforts to beef up their arsenals with the military gear.
The 1033 program has transferred more than $4.3 billion in gear to local law enforcement, according to the Pentagon. That includes big-ticket items such as helicopters and armored vehicles, and smaller equipment, such as .45 caliber pistols.
Pinal County Sheriff Paul Babeu made headlines in 2012, when his agency was given a "Million Dollar Customer" award for having joined the ranks of those that had requested over a million dollars worth of surplus equipment.
In Yavapai County, law enforcement agencies have asked for substantially less than Babeu's department, according to a list supplied by the state's 1033 program coordinator.
Prescott police had the longest list of 1033 program equipment, which includes 54 M16 rifles, a bomb-disposal robot, an armored truck and a Mamba armored vehicle, among other materiel.
Prescott Valley has 17 M14s, nine .45 caliber pistols, a bomb-disposal robot, an armored truck and an armored car.
The Chino Valley Police Department received "utility" items, not weapons: trucks, a bulldozer, a utility trailer, a mobile command van, a Humvee, digital cameras and an office cabinet.
The Yavapai County Sheriff's Office received 9 M14 rifles, a bomb-disposal robot and two CASSPIR (the initials of the manufacturer) armored vehicles, according to the list.
Sheriff Scott Mascher said the rifles had been returned to the Department of Defense, replaced with AR-15s and similar rifles that YCSO bought with county funds.
He said YCSO had just one of the armored vehicles in service - the other was used for parts. And Mascher could only recall one incident in the past year that required the use of the armored vehicle: a standoff in which a suspect had high-powered weapons.
If YCSO had a civilian version of the CASSPIR built - it's set up as an armored personnel carrier - he said that vehicle would cost the county between $300,000 and $400,000, but the agency got the military variant for free.
"We wear brown pants, tan shirts, and cowboy hats," Mascher said with a laugh. "We're not interested in being the military," nor in projecting a military presence.
Prescott Police Chief Jerald Monahan said his department needs the weapons and vehicles they have as a "just in case" solution to a situation such as the 1999 mass shooting incident at Colorado's Columbine High School.
"Everything we have received, I believe, has a place in what law enforcement is facing in today's environment," Monahan said.
Each officer has a rifle, he said, and the approximately 30 who don't have an ex-military M16 have chosen to buy their own rifles, based on department specifications.
He said an armored vehicle was last deployed with the Prescott SWAT team in April, when officers served a search warrant on an armed-robbery suspect.
"What it's designed to do is to get us in close proximity to an entry point," he said. "It allows the entry team to get close enough to make an entry or negotiate a surrender while being protected.
"We have to have the ability to defend against" high-powered rifles that they may encounter, he said.
More than to counter terrorist threats, "these tools are used for home-grown activities," he said. "Even thought they may be military-style vehicles, they're used for domestic law enforcement on a regular basis."
The Prescott Valley Police Department is trying to dispose of one of its two armored vehicles, Chief Bryan Jarrell said.
"When we were actually going to a SWAT call-out involving a potential homicide suspect, it broke down," he said.
And the weapons - rifles and pistols - were used for ceremonial events, not on the street.
Jarrell said, that, "unlike what's going on right now in another part of the country, where (ex-military materiel) is being used against the citizens... that's not how we do things here."
The current armored vehicle is used for high-risk SWAT assignments, Jarrell said, and terrorism is not a major concern, although "if we had an active shooter, like a sniper... we're able to use that vehicle to pull up and blockade and extricate victims from high-risk scenes."
Chino Valley Police Chief Chuck Wynn said his agency had just received more items not on the August list.
"We just got a mobile office to use at our shooting range," he said. "We have a mobile command post truck we just got Friday," which will replace a small travel trailer used for that purpose, an unarmed Humvee, which will be wrapped with anti-drug graphics designed by school children and used for "PR purposes" at public events, a large flatbed truck and a bulldozer, to maintain the shooting range.
"It's all utility," Wynn said. For example, "the reason we got the trailer is, I was having to have my guys bring in their personal trailers if we had to go to Home Depot, and I don't like to do that."
Because the town doesn't field its own SWAT team, he said, the department doesn't require armored vehicles or heavy weapons. They had three M-14 rifles, but "they just sat in our armory, so we got rid of them," Wynn said.
"I don't have a need for MRAPs (another type of armored vehicle)," he added. "If I was in a big city and I had a SWAT team, I might look at things differently."
That office cabinet? It was a bonus, found when officers went to pick up the trailer, which they used to haul it back to Chino Valley.
It's used in the evidence room.
Follow Scott Orr on Twitter @AZNewsguy.