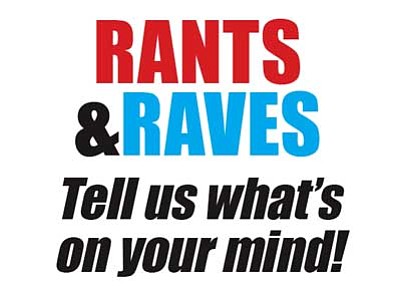 Originally Published: October 19, 2014 6 a.m.
Drivers: When turning right, you are to stay in the lane closest to the curb. When turning left, you are to stay in the lane closest to the middle divider. Blinkers are not optional!
Daily Courier, a big thanks for requiring everyone to comment through FB. We all have opinions on everything, we just don't need to be hit over the head with them. I'm amazed at the mean-hearted people who live in the area.
Prescott Valley needs a nice quiet restaurant, like Black Angus and a Dunkin Donuts.
Because of Facebook, gone are the comments! I notice an average of three comments per article instead of the usual 100 or so. It's just Tom Steele and Alan Whitney and maybe one other now. Not much perspective.
If the ridiculous thinking of Texas politicians, like Rep. Sessions of Dallas, want to ban all flights from Ebola affected countries in West Africa; then it follows, all flights from Dallas, the only place where two people have contracted the disease in the US, also should be banned.