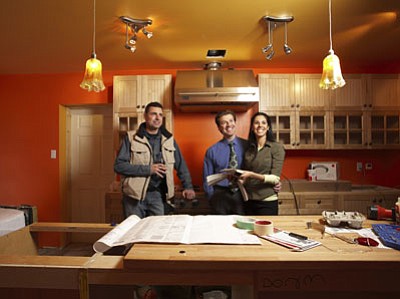 Originally Published: October 3, 2014 7:38 a.m.
Not a week goes by at the Yavapai County Contractors Association without a call from a homeowner asking what the cost is per square-foot to build or rebuild a home.
There is no standard per-square-foot cost, and there are many key factors that have an impact on what it would cost to rebuild your home.
Tom Reilly, owner of Renovations - Your Complete Remodel Resource and an architect and builder in Prescott for more than 30 years, said, "Square-foot pricing is a ratio of the total costs of a project components divided by the size of the livable portion of a house in most instances." Since the components that make up a project can be so different from project to project, it is impossible to predict a price per square foot with any accuracy.
Most of these calls are coming from homeowners that are questioning their homeowner insurance coverage. Homeowner insurance is the coverage you need in the event of significant loss, but not all policies or claim situations are the same, and coverage comes in as many forms as there are flavors of ice cream.
We talked with Terri Daniels of The Mahoney Group, and she outlined some pointers to make sure you are adequately protected, that your coverage is current, and you have the right coverage.
• Every year or two, ask your agent to run a replacement cost survey to help make sure you are adequately insured. Local insurance companies have computer programs that have local building costs.
• Keep in mind the replacement cost for your home has no relationship to the resale value of your home.
• You should consider including extended or guaranteed replacement cost coverage. For a nominal amount, your carrier can go beyond the policy limit and spend more to rebuild your home, subject to certain terms.
Out-buildings are usually covered for 10 percent of your home limit. If you have several barns, sheds, garages, etc., that are not attached to the home, make sure you raise the "Other Structures" limit.
If your home is over 10 years old, you should discuss with your agent adding "Ordinance or Law" coverage. You cannot profit from a loss, so if your home was built to an older set of codes, this Ordinance or Law coverage would cover you to rebuild under current code changes, and therefore you would not have to pay for the new code requirements out of pocket. Unless you have this coverage, your insurance carrier will not cover the upgraded code requirements in rebuilding your home.
Double-check to see if you have coverage for "backup of sewer and drain."
If you have anything in your home or on your property that has propellers, golf carts, boats, quads, etc., these items require special coverage.
Ask your agent about an automatic inflation provision. This will more than likely raise your premiums, but possibly something you should consider.
Inquire about additional coverage for protection from mold, sewage backup and flood insurance. This coverage must be purchased separately.
Insurance experts say failing to have enough insurance to cover the cost of rebuilding your home if it is destroyed is the largest mistake homeowners make. Many homeowners buy only enough insurance to cover the amount of their mortgage, but keep in mind the mortgage is at most 80 to 90 percent of the value of the home. And then there are the homeowners who insure their home for an amount equal to the current value of their home. This figure is far less than the actual cost to rebuild.
The top-of-the-line protection and most expensive option is "guaranteed replacement cost coverage." This means the insurer will pay to rebuild your home no matter what it costs.
Eric Strobel of State Farm indicated they review their clients' policies every year or two to "ensure they are properly covered. With our replacement cost tool, we can get very close to what a homeowner needs to be covered. The tool is updated quarterly by zip code, so the construction costs will be accurate. In addition to that, State Farm provides an additional 20 percent of the dwelling covered."
Remember to tune in to YCCA's Hammer Time 7 a.m. every Saturday and Sunday morning on KQNA 1130 AM/99.9 FM, or the web at kqna.com. Listen to Sandy and Mike talk about the construction industry and meet your local community partners.