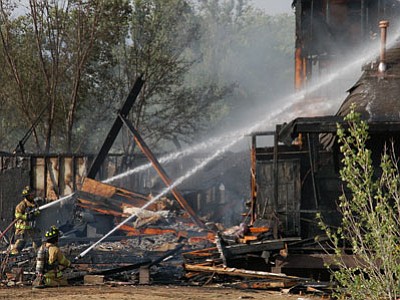 Originally Published: June 16, 2014 6:02 a.m.
CHINO VALLEY - A fire destroyed a home on Linda Lane in Chino Valley on Sunday afternoon.
About 25 firefighters battled the blaze, struggling against the gusty winds in an effort to keep the fire from igniting dry grass and even other homes, Chino Valley Fire District Battalion Chief Mat Mayhall said.
"We had one engine and one patrol (truck) just going through the neighborhood," he said, looking for grass fires.
The house was well-involved when firefighters arrived, and a small grass fire had already started as well, Mayhall said.
"The first engine (to arrive) reported heavy fire involvement on the first and second floors," he said, and, just minutes later, because of the heavy winds, they called it 75 percent involved and moved all crews to the outside of the house, fighting the fire defensively, he added.
Mayhall said the homeowner, a woman, was the only one home when the fire started, and that she and her dog got out safely.
She told firefighters that she smelled smoke and found the front porch on fire.
No injuries were reported.