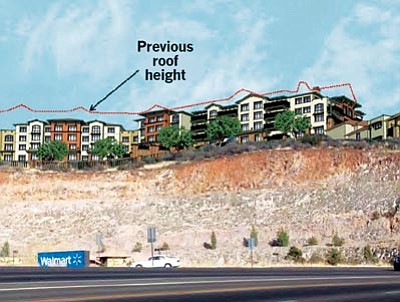 Originally Published: June 11, 2014 6:03 a.m.
PRESCOTT, Arizona - The Prescott City Council approved a special use permit Tuesday for the Touchmark at the Ranch senior housing complex to exceed the city's standard 50-foot height limit.
The main apartment complex can be as high as 70 feet, including basement parking as high as 13 feet.
"I think when it's completed, everybody will be proud of it," Mayor Marlin Kuykendall said.
The vote was 5-2 with Jean Wilcox and Chris Kuknyo voting against the project.
"This will probably be one of the hardest decisions I made," Kuknyo said. "I think it needs to come down to 50 feet."
The developers originally sought a maximum height of 80 feet, but reduced that to 70 feet in the face of opposition. The site is located on a cut hill above the Highway 69 Walmart.
More than 1,000 people signed a petition against the 80-foot-high project, although only three spoke against it Tuesday during the 50-minute discussion. Some other opponents might have left since the discussion didn't start until 5:20 p.m., 2 hours and 20 minutes after the council meeting started.
A Touchmark Development & Construction Co. representative noted that the petitions oppose the wrong height now, but opponent and neighbor Rich Kaplan said that was unfair to try to diminish the opposition.
Wilcox and Kuknyo both said they are concerned about setting a precedent with the height, although Kuknyo wondered out loud why the basement is part of the height calculations. A Touchmark representative said the developers would have to add about 1.5 acres of parking lot pavement to replace the basement parking.
Wilcox said she also was shocked that the city was going to waive $500,000 in permit fees.
"There's no need to give money away when this is a prime piece of property," neighbor and opponent Ben Valentine agreed.
Councilor Steve Blair said a 100-foot height used to be a use by right.
"I can remember when we felt 100 feet was OK," Kuykendall added, and it's still OK with council approval.
The mayor said a previous council eight years ago approved a 1,000-seat convention center, 200-room hotel and about 60 casitas on the site with no information about the hotel height. The approval included a $5 million cash incentive, he added.
"There was no outroar at all," he said.
While the mayor said "I respect the petition immensely," it includes residents throughout the city instead of residents within 1,500 feet, as regulations require.
A Touchmark representative said the development would produce the equivalency of 130 full-time jobs, and Kuknyo called it economic development.
Kuknyo and Kuykendall both took jabs at some residential construction, with Kuknyo complaining about homes on ridgetops and Kuykendall criticizing homes propped up by tall stilts on steep hillsides.
The Touchmark plan includes approximately 35 homes, 11 four-plex homes and a clubhouse alongside a larger four-story building featuring independent living apartments, assisted living units and rooms for people with serious memory loss. Developers estimate about 570 residents will occupy the 375 units.
Only the larger building will exceed 50 feet on the 44-acre site.
Alongside the special use permit, the council approved a preliminary plat, development agreement and water service agreement for 83 acre-feet per year.
Touchmark is based in Beaverton, Ore. The company already built 12 similar developments in eight other states and Canada. See Touchmark.com and TouchmarkPrescott.com for more details.
Follow Joanna Dodder on Twitter @joannadodder