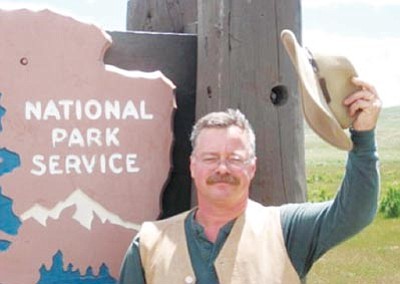 Originally Published: January 16, 2014 6 a.m.
Joe Wiegand portrays 26th U.S. President Theodore Roosevelt in a one-man show 1 p.m. Saturday, Jan. 18, at the Phippen Museum.
Wiegand will share stories from Roosevelt's incredible life, including amazing tales of the frail young boy who exercised his way to health and dedicated himself to the Vigorous Life and the Square Deal.
Wiegand has been entertaining audiences nationwide with his Roosevelt show and stories full of adventure, laughter and inspiration. In 2008, Wiegand performed across America in celebration of Roosevelt's 150th birthday, including shows at the White House and Roosevelt's New York City birthplace.
A lifelong student of American history, government and foreign policy, Wiegand is a political science graduate of the University of the South in Sewanee, Tenn. Following Roosevelt's counsel to live a vigorous life, Wiegand has served as an elected county commissioner, a campaign and public policy professional, a board member for various nonprofits and as senior warden at his church. Wiegand is also a member of Rotary and the National Association for Interpretation.
Museum admission is $7 for adults, $6 for AAA members, $5 for students with ID and free for museum members and kids 12 and under. For more information on this or any other event at the Phippen, located at 4701 Highway 89 N, Prescott, visit www.phippenartmuseum.org or call 778-1385.