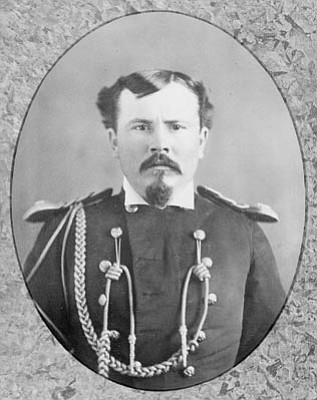 Originally Published: January 10, 2014 6 a.m.
On May 30, 1864, settlers gathered to choose the name Prescott for Arizona's first territorial capital. The Sharlot Hall Museum will celebrate Prescott's 150th anniversary this year with a wide variety of events and history talks.
They include living history presentations starting Saturday, and a territorial dinner the weekend of May 30 to June 1, when the whole city celebrates the sesquicentennial with a variety of events.
And on May 17, a living history event at Fort Whipple celebrates the May 18, 1864, establishment of the fort at what is now Prescott.
The events open at 10:30 a.m. this Saturday with "Stage-Struck Soldiers: Military Theatre in Territorial Arizona (1867-1880)."
It's part of a year-long free lecture series at the museum called "Soldiers, Immigrants and Families: Stories of Frontier Life in Early Arizona."
The series features representations of life in Arizona's territorial days before statehood, 1863 to 1911.
"We're trying to give the public an idea of the people who were here," explained Mary Melcher, the museum's education program manager.
Other topics in the lecture series range from human hair art to Chinese residents of early Prescott to childbirth on the frontier.
The free lecture series takes place at the museum's Library & Archives building, located at 115 S. McCormick St.
The archives building is hosting the series to publicize its location across the street from the rest of the museum campus, Museum Archivist Brenda Taylor said.
Tom and Wendy Collins of Prescott will present Saturday's half-hour Readers Theater presentation on territorial military theatre at Fort Whipple, Camp Lincoln and elsewhere.
They use brief dialogues from melodrama, comedies and a minstrel show.
After their presentation they'll sign copies of their book, "Stage-Struck Settlers in the Sun-Kissed Land: The Amateur Theatre in Territorial Prescott (1868-1903)."
Future lectures in the series include:
• "Human Hair Art," 1 p.m. Saturday, Feb. 8. Antique jewelry collector Debra Matthews shares her fine collection of vintage mourning wreaths, broaches, necklaces and watch chains made from human hair, and explains the process to create these unique and curious items of old.
• "The Hash Knife Around Holbrook," 11 a.m. Saturday, Feb. 22. A new look at the famous Hash Knife cattle outfit brand from Jan MacKell Collins, the great-granddaughter of Hash Knife cowboys George Hennessey and Frank Wallace. She will sign books about the brand.
• "An Immigrant's Struggles: The Diary of Irish/American 'Mim' Walsh," 2 p.m. Saturday, March 22. Judy Nolte Temple introduces the audience to Mim Walsh, who wrote a 50-year-old journal that reveals her heartfelt experiences as an immigrant.
• "Chinese History in Prescott," 2 p.m. Saturday, April 19. Rhonda Tintle Davis discusses this fascinating history.
• "History of Whiskey Row," 2 p.m. Saturday, May 10 by Brad Courtney.
• "The Founding of Prescott," June 1, by local historian and author Al Bates. Time TBA.
• "Childbirth on the Frontier," sometime in October by Mary Melcher. Time and date TBA.
Follow Joanna Dodder on Twitter @joannadodder