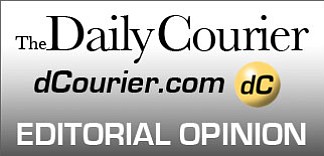 Originally Published: January 1, 2014 6 a.m.
Everything started anew when that big boot downtown dropped last night.
New hopes, new resolutions, new outlooks, new opportunities. And somewhere inside Yavapai Regional Medical Center, a new baby.
Never underestimate a good, productive New Year's resolution.
The American Cancer Society tells us that one out of every five adults smoke cigarettes. If you're on that list, try kicking the habit for all the right reasons. The World Health Organization reveals that 1.4 billion adults worldwide (and 40 million children) are overweight. Take a look in your mirror, and decide how you'd like to treat yourself in 2014.
Studies suggest that about 8 percent of us actually stick to our New Year's resolutions. If you need help, partner up with someone. If you need more help, like anything in 2014, there's an app for keeping your New Year's pledge.
Getting a better job, saving money, managing stress, traveling more, and drinking less alcohol are other popular lifestyle changes up for personal renewal every January 1st.
Sound familiar? We've all been there.
Those are individual goals. Collectively, there's a lots to watch for in 2014.
The Affordable Care Act and its continuing implementation will get all the attention in 2014. And not merely for monitoring the health care (and the wallets) of those impacted, but, naturally, for political fallout. This year will feature 36 gubernatorial races, 35 Senate races, and dozens of House contests. This is shaping up as one of the most critical mid-term election years in recent memory.
Political rancor will be just as loud and obnoxious in 2014 as it was in 2013. No news there.
The best each of us can do is focus on those personal resolutions, and on those closest to us. Government sideshows have zero to do with personal accountability in terms of our own health and fitness. Live healthier, live happier.
Focus on all the good you can do in 2014.
More like this story