Irene Leverton flew, even when women weren't welcome
Originally Published: February 10, 2014 6:02 a.m.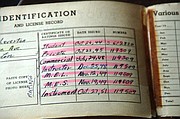 PRESCOTT - Paging through her pilot's logbooks brings back a flood of memories for Irene Leverton. The dog-eared books have loose pages and show evidence of having been repaired in the past. But the notations in them, complete with colored-in doodles, are clear, all the way from her student pilot certificate, issued in 1944, to her final flight as a pilot in 2011, when she logged the last of her 25,768 hours.
Leverton can't recall a time when she didn't want to fly. Born in 1927, she was destined to run into a good deal of resistance - women pilots were not seen as equals at the time - but she didn't let that stop her from gaining ratings in just about everything that flies.
As a child, she seemed obsessed with flying. "Finally, my mom got me a little wooden airplane that I could throw off our third-floor balcony and go all the way down, get it, and throw it again," she said. "Ever since then, I could never think of anything else."
She said she wanted to get into military aviation during World War II. Women were allowed to ferry aircraft around, though they couldn't fly combat missions. ("A fighter pilot? I think I would have been good," she said.) But she was too young and wasn't allowed to join.
Leverton ended up working at an airport. "I was cleaning up and propping (starting) airplanes, and I got to fly," she said. "I made enough money to fly one hour a week."
She eventually became a flight instructor and then a check pilot, giving flying tests to students trying to earn their licenses.
In the 1960s, Leverton was involved in the so-called "Mercury 13" program, which the women involved hoped would lead to their becoming astronauts. (See accompanying story.) But it never panned out, and she continued flying.
In 1965, she made an attempt to cross the Pacific Ocean in a single-engine plane, a mission that failed when an on-board electrical fire forced her to turn back to San Francisco.
She pages through logbooks that cover her time training young men for Japan Airlines, pointing out one student whose entry is highlighted with orange felt-tip pen. "Damn good pilot," she reads, laughing.
The Japanese men were very respectful, Leverton said, but among Americans, "some males didn't want a female to teach them, because females couldn't fly." Perhaps worse, she said, were the flight schools that wanted her to pass students that she believed weren't ready to be pilots.
"Some fellows hated me," she said. "I held them to exactly what they had to do for their rating.
"To this day, things have improved for women, but there's still some screwy stuff," Leverton said.
She lived all over the country, ferrying airplanes for anyone who asked or test-flying them when they came out of the shop to make sure they were safe.
Leverton spent some of her final flying days working with the Civil Air Patrol squadron in Prescott as a check-ride pilot, having gained certifications all the way to Airline Transport Pilot.
Nowadays, Leverton lives in a tiny apartment crammed with memorabilia from her flying days, reminders of a life lived the way she wanted it.
"It made me feel free," she said. "The space out there is a friend."
Follow the reporter on Twitter @AZNewsguy
More like this story
SUBMIT FEEDBACK
Click Below to: