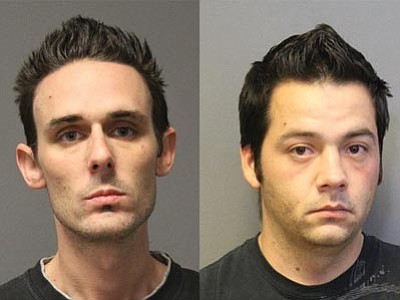 Originally Published: December 13, 2014 6:03 a.m.
RIMROCK - Two men arrested this week after they allegedly stole a credit card, cash, and jewelry from a 74-year-old woman were welcomed into her home as salesmen for a cleaning business, a YCSO spokesman said.
On Dec. 9, detectives with the Yavapai County Sheriff's Office arrested Steven Elms, 29, and Juan Fuentes, 27, on charges including burglary, credit card theft, identity theft, nine counts of credit card fraud, and three counts of trafficking in stolen property, sheriff's spokesman Dwight D'Evelyn said.
They're accused of stealing the card, cash and jewelry during a visit to the victim's home, where they solicited business for a company called "Clean to Perfection." A YCSO detective tracked down the credit card from an area store where it had been used and got hold of surveillance video of the two suspects, D'Evelyn said.
The victim recognized the men, he added.
The detective next went to a Flagstaff Walmart, where he found the two suspects made more than one transaction, and went to a pawnshop, where he recovered the jewelry, D'Evelyn said.
He also found that they had used the card at a Munds Park gas station, which had video of Elms' car filling up, D'Evelyn said.
Some items were also pawned in Prescott and Cottonwood and those were recovered as well.
On Tuesday, YCSO was notified that the suspects were in a Cottonwood pawn shop again, and they were arrested, D'Evelyn said. A search of the car turned up more stolen property and stolen mail from several area addresses.
They suspects admitted to the crimes, D'Evelyn said, and "the suspects even indicated they entered the victim's home several times while she was away."
He said this should be a warning "for seniors that you should not let anyone into your home to solicit anything" without knowing something about the people. "Never let 'solicitors' wander out of your sight," he said.
Anyone who believes they may also have been victims of these men should call Detective Todd Swain at 928-567-7710 and refer to case number 14-043534.
Phone scam resurfaces
On Dec. 5, a woman came home and listened to her voicemail messages, only to hear she needed to pay $1,500 for two outstanding warrants, a Prescott police report said.
The message was purportedly from YCSO "Deputy Howard," and informed her that she had outstanding warrants for failure to appear and contempt of court, the report said.
He told her how to buy two "MoneyPak" cards for the alleged fines and gave a phone number for her to call.
There is no Deputy Howard at YCSO and the phone number supplied did not connect there, either.
The woman did not send the money, saying she called police because she "wanted to help prevent this from occurring to someone else who may fall for the antics," the report said.
Follow Scott Orr on Twitter @AZNewsguy