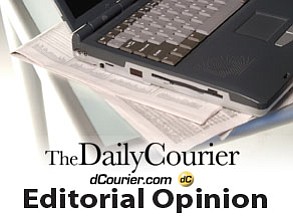 Originally Published: December 5, 2014 6:04 a.m.
I often see the American flag flying on a fire truck or two when I'm running my errands around town. And I always smile. It's good to see patriotism displayed.
Yesterday's Daily Courier reported that Prescott Valley Town Councilwoman Mary Mallory and the Prescott Valley Healing Field of Northern Arizona committee decided to purchase new U.S. and Arizona flags for area fire departments.
I applaud the group for doing this. They are even supplying the poles and mounting brackets for the fire trucks.
When reading it, something in the story touched me.
Scott Freitag, chief of Central Yavapai and Chino Valley fire districts, told a story about the Ferguson, Missouri, protests in which National Guardsmen watched protesters burn the flag. After the incident, the guardsmen picked up the charred pieces. Someone told them, "It's just a piece of cloth." The guardsmen replied, "It means something to us."
Patriotism takes a bumpy ride in this country ... we are either "high" on being American or disgusted with our government, so it is nice to see our military and our emergency responders proudly represent the flag.
While my mind was on our flag, I researched a bit on etiquette, realizing that quite a few of us may have forgotten or never known these facts:
• The term "half-staff" means the position of the flag when it is one-half the distance between the top and bottom of the staff.
• When flying outside, the flag should always be illuminated if kept up overnight.
• When the flag is used to cover a casket, it should be so placed that the union is at the head and over the left shoulder. The flag should not be lowered into the grave or allowed to touch the ground.
• When the flag is suspended across a corridor or lobby in a building with only one main entrance, it should be suspended vertically with the union of the flag to the observer's left upon entering.
• The flag should not be dipped to any person or thing.
• The flag should never be displayed with the union down, except as a signal of dire distress in instances of extreme danger to life or property.
• The flag should never touch anything beneath it, such as the ground, the floor, water, or merchandise.
• The flag should never be used as wearing apparel, bedding, or drapery. It should never be festooned, drawn back, nor up, in folds, but always allowed to fall free.
• The flag should never have placed upon it, nor on any part of it, nor attached to it any mark, insignia, letter, word, figure, design, picture, or drawing of any nature.
• The flag should never be used for advertising purposes in any manner whatsoever.
Just a few things to keep in mind when thinking about displaying your patriotism.
- Robin Layton, editor
More like this story