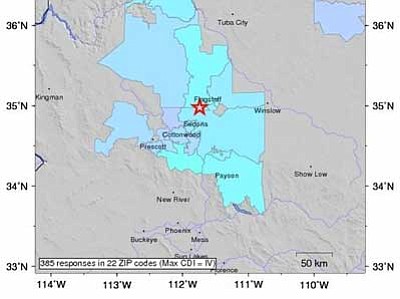 Originally Published: December 2, 2014 6 a.m.
A moderate earthquake on Sunday night jostled residents of northern Arizona - a region where quakes are frequent but usually don't produce much damage or alarm.
The U.S. Geological Survey said the magnitude-4.7 temblor that hit at 10:58 p.m. was centered 7 miles north of Sedona and 6 miles underground. There were no immediate reports of injury or major damage, though workers had to clear some rocks and debris from Highway 89A in Oak Creek Canyon between Sedona and Flagstaff.
Both Denny Foulk, Yavapai County Emergency manager, and Rob Rowley, Coconino County Emergency manager, confirmed that there were no reports of damage to homes or roads. ADOT reported that Highway 89A has been checked and declared safe.
"Business as usual," said David Brumbaugh, director of the Arizona Earthquake Information Center at Northern Arizona University. "It's nothing unusual to have earthquakes in this part of the state. Most of them are too small to be felt."
Still, more than 1,200 people used the U.S. Geological Survey's website to report that they'd felt the quake, some as far away as Paulden and Pine. Area residents reported feeling shaking and swaying.
One individual from near the Village of Oak Creek said, "It rocked my desk chair (on casters) back and forth, shook windows, and caused my Mac desktop to tremble as well as the desk lamp..."
"I think what I heard was the house kind of rattling," said Donna Kearney Lomeo, a Sedona real estate agent. "It sounded like a bunch of balls rolling around on the roof."
WHERE THEY'RE FELT
Earthquakes shake all corners of the state, but they're far more prevalent in northern Arizona and relatively infrequent in the desert cities where the vast majority of Arizonans live.
"You ask a lot of people around the state whether we have earthquakes and they can't believe we do - and we certainly do," said Jeri Young, a research geologist in Phoenix for the Arizona Geological Survey, a state agency.
While the U.S. Geological Survey lists a 5.6-magnitude quake on the Arizona-Utah border in 1959 as Arizona's strongest, Brumbaugh and Young said the largest quakes on record were three in northern Arizona that ranged in the 6.0-6.2-magnitude and occurred between 1906 and 1912.
The most recent, similar-sized quake to hit northern Arizona happened on March 2, 2005, at 4:13 a.m. It was a 5.1-magnitude earthquake reported southwest of Winslow, according to the USGS.
Other local quakes in recent years date to: November 2013 (Chino Valley, 2.5 and 2.0), October 2011 (Paulden and Chino Valley, 3.2 and 3.6), and January 2011 (Sedona, 3.5), according to Daily Courier archives.
Using the Arizona Integrated Seismic Network to track seismic events, Young identified at least 10 aftershocks Sunday to Monday, three of which approach 3.0. Further, on Nov. 25, 2014, a magnitude-3.5 event occurred proximal to Sunday night's earthquake, she said.
TOLL FROM ARIZONA EARTHQUAKES
Unlike California, Arizona has had no earthquake in recorded history that caused deaths or injuries, according to the U.S. Geological Survey.
However, the 1906-1912 quakes caused boulders to roll down from nearby mountains onto a Coconino National Forest construction crew's camp, ripped a 50-mile crack in the earth north of the San Francisco Peaks and damaged houses in Williams.
Recent data recorded 10-15 mostly small earthquakes monthly in Arizona, but northwestern Arizona has faults capable of generating a 7.0 quake, Young said.
That was the magnitude of the 2010 quake that killed more than 300,000 people in Haiti.
EARTHQUAKE GEOLOGY
Northern Arizona is at the southern end of a seismic belt that extends northward into Canada, Brumbaugh said.
Young said scientists will analyze sensor data from the Sunday night quake "to find out where the stresses are."
Unknown for now is whether it is a precursor to a larger one yet to come, Young said. "As time goes on the probability that was the main event becomes greater."
According to Phil Pearthree, chief of Environmental Geology at the Arizona Geological Survey, "the location (of Sunday's quake) is quite close to the Oak Creek fault zone, a down-to-the-east normal fault with 700 feet of vertical displacement in the past 10 million years or so.
"We think this fault has been active in the past 2 million years, but don't know how recently it has ruptured in a large earthquake."
Courier City Editor Tim Wiederaenders contributed to this article; follow him on Twitter @TWieds_editor