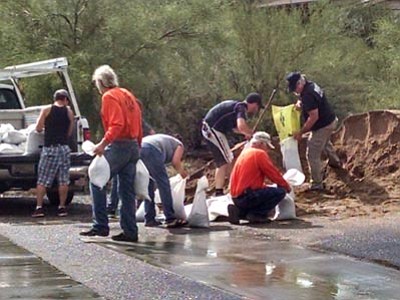 Originally Published: August 20, 2014 6 a.m.
Black Canyon City was the hardest-hit Yavapai County community Monday when heavy rains pounded saturated landscapes and caused flooding problems across the county.
The Black Canyon City Fire Department's swiftwater rescue crew saved a mother and her young son when a bus stop on Perry Road suddenly turned into an island surrounded by the raging waters of the Agua Fria River at about 8:30 a.m. Tuesday, BCC Fire Chief Tom Birch said.
The Yavapai County Sheriff's Office and other county officials helped the BCC Fire Department evacuate about 15 residents of the River's Edge Trailer Park shortly before the Agua Fria River and Black Canyon Creek flooded into the park at their confluence.
At least three trailers could be heavily damaged but officials won't know for sure until they conduct assessments today, Yavapai County Development Services Director Steve Mauk said.
The same trailer park was flooded much worse back in January 2010. The county then required all the trailers to be movable in case of flooding.
Trailer owners had time to move about 20 of them before the flooding hit Monday, and Mauk estimates that at least 10 of them could have been severely damaged otherwise.
"They were happy to get out, and wanting to see what has to happen to get back in," Mauk said. He might know as early as today what infrastructure repairs are necessary before residents can return.
The owners of the three damaged trailers weren't at home when the evacuation order came, he said.
While the BCC flooding was much worse in 2010, the rain fell in a shorter period of time this week, Birch said. Nearly 5.5 inches of rain fell between 3 a.m. and noon, he said. By mid-morning, the National Weather Service issued a flood warning for the Agua Fria River and its Squaw Creek tributary in Black Canyon City.
"The intensity of it this time was just crazy," he said, leading to rock and mud slides on Interstate 17. His agency responded to several I-17 vehicle accidents.
Officials closed numerous flooded BCC roads including Maren Avenue, Tara Springs low-water crossing, Maggie Mine Road at the end of pavement, and Squaw Valley Road at the Agua Fria crossing.
Deputies patrolled the lowland areas along the Agua Fria River to determine if more evacuations might be necessary. The Yavapai County Emergency Management Division and Yavapai County Flood Control District helped out.
The nearby Daisy Mountain CERT (Community Emergency Response Team) was unable to come help BCC residents be-cause they were blocked by a mudslide at Table Mesa Road, Yavapai County CERT Coordinator Eric Lash said.
Luckily the new BCC CERT happened to just finish its training last weekend, Lash noted.
"We're getting real-life experience," he said.
The CERT volunteers are trained to help out neighbors in emergencies, especially in situations where the government isn't available. Black Canyon City is unincorporated so it has no city government.
On Tuesday, the CERT volunteers helped the Red Cross volunteers who were setting up a shelter at Canon Elementary School, they helped residents properly fill sandbags, and they went door-to-door warning residents in the Indian Hills area of mudslides, BCC CERT leader Stacie Priest said. She estimated at least 10 homes had mud inside.
"Now we're a little more self-reliant," she said. "We can help our neighbors."
Follow Joanna Dodder on Twitter @joannadodder.