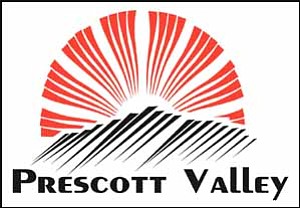 Originally Published: August 11, 2014 6 a.m.
Fueled by home and retail sales, the Town of Prescott Valley has had a "bounce back" fiscal year, and has finally emerged from the great recession.
"Our end-of-fiscal year numbers are in and we had a great year," said Greg Fister, Prescott Valley's economic development manager. "Local sales tax revenues were up 16.5 percent. That kind of year-over-year increase is pretty unheard of."
Fister points to town record retail, restaurant and hotel sales for the 2013-14 fiscal year (July 1, 2013 - June 30, 2014).
Bill Kauppi, management services director - and unofficial budget guru - for Prescott Valley for the last dozen years, is more conservative in his characterization.
"We had a pretty good year," Kauppi said on Thursday, a few hours before he was to give a revenue/expenditures presentation to the Town Council. "Sales tax exceeded our budget, building permits are up. On the revenue side it was very positive."
The sales tax revenues for 2013-14 were $13.4 million. For the 2014-15 fiscal year, Kauppi has budgeted sales tax revenues of $14.1 million.
The retail tax revenues for 2013-14 were $7.4 million. For 2014-15, Kauppi budgeted $7.9 million in retail tax revenues.
Considering big retailers Walmart, Dick's Sporting Goods and Sprouts were not in business for all of the 2013-14 fiscal year, and T.J. Maxx is to open soon, the 2014-15 retail tax revenues could be even higher. "I tend to be conservative," Kauppi said.
In addition to getting a cut of the taxes people pay at checkout lines, Prescott Valley also receives tax revenues for home sales.
"This is the first year in quite a while we've seen a solid increase in tax collection. Construction is a big part of it," Kauppi said.
"The past few years, we weren't selling a lot of homes - that's where we get a lot of our tax."
In 2013-14, Prescott Valley received $1,158,681 in residential and commercial structure sales, nearly twice the $633,070 for fiscal year 2012-13.
The town's home sales tax rate is 2.33 percent.
A sign that Prescott Valley home sales have come roaring back is shown in building permit fees - which quadrupled estimates. This time last year, Kauppi penciled in $325,000 in building permit fees for 2013-14.
That figure ended up being $1.4 million.
Even a fiscally conservative type like Kauppi is ready to say the recession is over.
When did PV first show signs of bouncing back? "I'd say probably May or June of 2013," Kauppi said. "That's when it really looked like it started to pick up."
Even so, it's not quite back-to-the-good-old-days in PV.
"We're doing 25 to 30 building permits a month, which is good - but still not where we were years ago. Before the recession kicked in, we were doing 1,000 (building permits) a year."
The two-thirds reduction in building permits is not necessarily a bad thing, says Kauppi, who prefers steady, incremental growth.
"When you have huge growth that occurs so rapidly, it's hard to manage," he said.
Even with the moderate growth over the last year, Prescott Valley's budget man said he expects department heads to make cases that they will need more employees to service the growing town.
"They always ask for more," Kauppi said with a chuckle.
Follow Tom Scanlon on Twitter @tomscanlonpress
More like this story